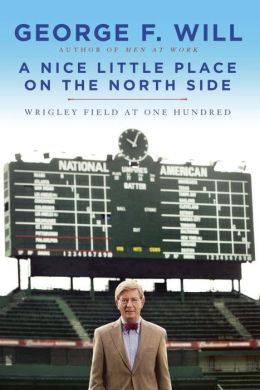 You might know George Will best from all those Sunday mornings he spent unabashedly flirting with Cokie Roberts back when David Brinkley was hosing the Sunday morning ABC politics show.  Or, you may know him for writing a fawning tribute to the genius of The Genius, Tony LaRussa.  Since we're all Cubs fans here, we all know that he famously said that while growing up in Champaign, Illinois he had to make the choice between rooting for the Cubs or the Cardinals, and he chose a life of misery and disappointment–two things normally associated with living in Champaign in the first place.
I know I wasn't the only person with a Cubs web site to get sent an advance copy of Will's new book, "A Nice Little Place On The North Side" (apparently Random House didn't get the "fading blog star" memo), but I seem to be the only one who actually read it.  Hell, Yellon will do anything for something free, and even he hasn't written a review of it yet.
The book, is ostensibly a breezy history of the 100 years of Wrigley Field, and the stuff that's gone on inside of the old ballpark.  Some of the most interesting stuff has little to do with the Cubs (not surprisingly.)  One long passage is the history of beer.  Seriously.  It's actually fascinating and well done.
Read More