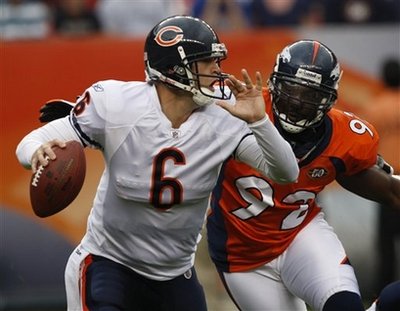 How could we possibly let Jay Cutler's return to Denver go without giving it the running diary treatment?  We couldn't.
A kind note to the Broncos fans who put on their old Cutler jerseys and wore diapers and sucked on pacifiers during the game…please take your sexual repression away from the national TV cameras.
And before we get to the actual game action, here's some advice for former Bears QB Kyle Orton and really to any men out there who are rapidly losing their hair.  Growing it longer won't help.  NFL Network had a shot of Orton warming up on the field at about 6 p.m. our time without his helmet on and the wind kept taking his hair and doing hilarious things to it.  Just like Tim Conway in the old Ms. Wiggins skits on the Carol Burnett show.
[Youtube:http://www.youtube.com/watch?v=93DiKe1JgoE]
I'm sure Broncos fans are comforted by the pregame Andrea Kramer interview with Josh McDaniels.  McDaniels comes off like a guy trying to sell you towel service at your health club.
Three of the four guys farthest back on the Broncos kick return team are white.  Unless Whizzer White is one of them, probably not a lot of return scores in their future.
Cutler brought his personal referee, Ed Hochuli with him.  Just to assure that any Cutler fumbles are immediately blown dead.
I'm not sure what Collinsworth just said about Orton, but once he said the words "game manager" my eyes glassed over and my hearing shut off.  How awesome is it to not sit through that speech this season?
Did you know that McDaniels was the quarterback of his high school football team?  Awesome!  That always portends greatness.  The quarterback on my high school football had to join the Army to avoid going to jail after our season ended.
Orton leads the NFL so far with four interceptions, and he tried to throw a fifth but Brian Urlacher dropped it.
Michaels called him "the always dangerous Devin Hester" apparently Al didn't see Devin return kicks last year.
And Devin lets this one roll and it only costs the Bears about 25 yards of field position. Devin's ready for the regular season.
The Broncos fans are booing rather loudly.  You can tell they really don't miss him, considering they are handling it so maturely.
Cutler throws incomplete on a pass intended for Desmond Clark and the Bears will punt.  But I just thought of something, maybe the fans are booing Clark?  He's an ex-Bronco.
The drive, if you could call it that, got off to a bad start because Cutler couldn't hear the play call from the sideline because of all the boo-ing.  Uh, shouldn't the Bears have known what the first play was going to be?  Nah, that's silly.
Michaels says that Correll Buckhalter has missed three full seasons so far in his "nine" year career.  But has anyone missed him?
Third and one and the Bears stuff the Broncos.  That happened exactly never times last year.
Devin called for a fair catch and caught the ball at the three.  Great job, Devin.  And then, there was an illegal block during the kick so the Bears get it at the one and a half.  So far, Devin's the Broncos best player tonight.
So, Chase Bank really thinks that the commercial where the guy wants to cash in their credit card points to go on a vacation, only to find out that she used them to buy one dress,  that he would just stand there and smile.  I hope there's an extended version of the commercial where he starts to laugh maniacally and then beats her to death with the fireplace poker.
Orlando Pace cashed in his future Hall of Fame points to avoid getting called for holding the end zone on a near sack of Cutler.
Collinsworth, after six Bears offensive snaps says confidently "this is exactly what Cutler is going to face against Green Bay" because the Bears plan on starting every drive in that game inside their ten.
NBC is comparing the Cutler-Orton trade to one between Oakland and Houston involving Ken Stabler and Dan Pastorini.  Kyle Orton is no Dan Pastorini.
On second thought, on that Chase commercial, perhaps the wife isn't gesturing to her dress, maybe she used the points to get a boob job?  Now that would be a different commercial and given the ages of the two people in the commercial, one that ends with them in adjacent bath tubs out on the back porch.
It's good to see that the Bears are still teaching their defensive backs to not tackle.
Collinsworth wants us to know that Eddie Royal is one of his "favorite receivers in the NFL."  I hope at halftime he runs down his list of favorite CFL receivers.
The Bears just tore the shoulder off one of Collinsworth's favorite NFL receivers.
Orton shows he's in midseason form.  You give him the ball on the opponent's half of the 50 and he'll get you a field goal.  Enjoy that, Denver.
I'd like to thank NBC for all of the Jay Leno Show commercials, I wouldn't want to forget it's on and accidentally turn the channel to NBC any weeknight between 9 and 10 p.m. this fall.
Collinsworth says that the straw that broke the Broncos back was when Cutler didn't return Pat Bowlen's call.  This reminds me of the time that the Bears almost traded Doug Atkins because he ate George Halas' carrier pigeon.
Al says the new Broncos' stadium was built with some "flexibility" into it so it would shake like Mile High.  Wrigley has that, it's called rusting I-beams.
On third and inches, the Bears roll Cutler out and he finds Clark for a 25 yard gain.  And Ron Turner stands up in the press box and flips off Kyle Orton.
And on the  next play, Matt Forte takes a toss and goes to pass and throws it into the stands.  Collinsworth lauds him for having the brains to throw the ball away, and he's right.  Most non QB's who get a chance to throw try to force the play to work no matter what.  And that includes when I run those plays on Madden.
Cutler matches Orton's field goal drive with one of his own.  Jay's went about 40 yards longer.
Is anybody else concerned that Orlando Pace can't block Elvis Dumerville because Elvis is "too short?"  It's like the old SNL "Hercules" skit with Bill Murray.  "I cannot lift that boulder, perhaps I could lift a smaller one?"
Good news, Ashlee Simpson is going to "sing" on the Jimmy Fallon Show this week.  So, if that meteor is ever going to hit 30 Rock that would be a good day to do it.
Alex Brown completely destroyed a reverse attempted by the Broncos.
And on third and 18 the Broncos throw a two yard pass to Brandon Stokely.  They are now officially running the Kyle Orton offense.
Andrea Kramer (who hasn't blinked successfully since 1987) says the Broncos are couching their injury updates as "upper extremity" and "lower extremity" injuries.  There is no way Lesley Visser will be able to pronounce any of that.
Caleb Hanie went to Colorado State, right?  Maybe the Broncos fans are just booing Lovie for not starting Caleb?
Maynard drops a punt inside the five yard line and Devin Hester gives the Broncos' punt returner a thumbs up for a heady play.  And, the Broncos held on the play, which pushes it even closer to the goal line.  Who wants to bet money on an Orton end zone fumble coming up?  Anybody?
My TV must be broken because on it, Mark Anderson just sacked a quarterback.  Uh oh, have I been transported to 2006?
I know it's preseason, but how fucking great is it to see Devin Hester break a 60 yard punt return (actually 54 yards)?  It is a sight to see.
And Hester did it in a way we just didn't see last year, he immediately saw a lane and just hit it, there was very little side to side running.
Two plays later, Matt Forte is in the end zone with the ball (a requirement for a touchdown) and it's 10-3 Bears.
So Maynard drops a ball inside the five.  A sack ends the Broncos drive after only six plays, Devin returns a punt to the four and Forte drives it home.  See, they can still do that, and they can actually complete passes that go forwards now.  I think I might pass out.
Didn't Steve Scheffler play basketball at Purdue?  Oh, different guy.  Never mind.  (But remember that ape?)
Casey Wiegmann is playing center for Denver?  Holy crap, how old is that guy?  Didn't he play for the Abe Gibron Bears?
Al just said that Chad Jackson will play more because Jabar Gaffney has a hand injury, and somewhere, Brandon Marshall has to be laughing crazily at someone.  What a "talent pool" the Broncos have behind Eddie Royal at WR.
Do the Broncos have any plays they can run where they don't commit a penalty?
Collinsworth is telling the Buckhalter "three missed seasons" stories again.  It's like they're just playing the analysis he recorded for Madden 10, and we've already run out of new stuff.
On third and two Orton throws incomplete and ends up with a bloody boo boo on his finger.  And the Broncos punter lands one inside the five and points up to God.  God doesn't care about punters, buddy.
Andrea's going to get an update, but we know it's an upper extremity injury, already.
Montana to Rice.  Young to Rice.  Unitas to Berry.  Cutler to Bennett!  Earl converts a third and ten from the two and gets the Bears out to the 20.
I still can't believe we have to count on a guy who couldn't catch one pass as a rookie.  Not even one?
Cutler just fired a ball down the seam to Greg Olsen and it was a rope.  I think my shorts just tented.
Cutler and Olsen follow it up with another impossible completion.  Even though everything that happened was obvious, Ed Hochuli takes about 12 minutes to explain it to everyone.
Collinsworth just said that Olsen, his new wife and Cutler are a "threesome."  Somewhere, Dan Pompei just got really excited.
Hochuli's explanation of Olsen's catch.  "The receiver caught the ball in the air and appears to have kept his left arm under it as he went to the ground."  It "appears?"  Ed really  needs to stop talking.
The Broncos are one of a growing number of teams that has little kids read announcements on their video board.  It never stops me from wanting to burn those stadiums down.
Devin Armomashodu with a catch.  I just like to say Aromashodu.  In fact, I'm saying it right now.
Aromashodu can't quite pull down a long touchdown pass.  It's going to take me half a season to get used to seeing a quarterback make throws like that.
And on third and two the Bears throw again and get another first down.  I thought third down passes were supposed to be followed by punts?
Elvis Dumerville gets called for roughing Jay Cutler. He only hit him about 40 seconds after the pass was thrown.
Yes, Cutler was actually back in the huddle before Elvis hit him.
We keep hearing stories about how demanding Cutler is to his receivers.  Why isn't he that demanding with his barber?
There's Ron Turner.  Second and two inside the ten with 24 second left and the Bears throw short of the end zone.  Earl didn't catch it, and good thing, or they'd have had to scramble to kill the clock and left them with fourth down.
Cutler hits Forte for a touchdown pass.  17-3 Bears.  Given the weird desperation of the Broncos and the fans, I wouldn't just sit Cutler in the second half, I'd put him on a plane back to Chicago.
They are reviewing the Forte catch, but this one's even more obvious than the Olsen one was, and it still takes Ed Hochuli about ten minutes to review it.  He just likes to know national TV cameras are focused on his glutes.
Remember how after two possessions Collinsworth was so down on Cutler?  He just said, "This has to be a nightmare for McDaniels, watching Cutler go up and down the field while his QB is in the locker room with a hurt finger."  We're going to have to get Collinsworth one of Office Space Tom's "jump to conclusions" mats.
[youtube:http://www.youtube.com/watch?v=Fcv5e6xX25I]
Collinsworth says he can't understand why the Broncos let Cutler go.  He says that what they should have was sat him down and said, "You can retire, but I am not trading you.  You will retire a Denver Bronco."  That's great, but the reason he wanted out, Cris, was that they tried to trade him.
Tom Brandstater is playing QB for the Broncos now because Orton's out with what they're saying isn't a broken finger, and Chris Simms still doesn't have a spleen.
Alex Brown gets called for an awful roughing the passer penalty.  All he did was tackle Brandstater about a half second after he threw the ball.  Cris and Al are pretty sure that it's an overreaction by the league to the hit that may have injured Tom Brady on Friday night.  Seemed like a wussy call to me.
Brandon Lloyd makes a great catch at the goalline for Denver and Trumaine McBride tears his helmet off.  You can tell this is a preseason game now, because Brandon Lloyd just made a great catch.
And, if Madden were around we'd have gotten that hilarious "hey look a helmet on the field, I hope there's no head in it!"
The Broncos punch it in and it's 17-10 Bears now.
Cris says he's really excited about the Jay Leno Show, which just reinforces my desire to never watch it.
There are four minutes left in the third quarter, and for the life of me, I can't explain why I'm not watching Mad Men.
Cutler was 15-21 for 144 yards, a TD and no interceptions.  Andrea Kramer is interviewing him, and this was priceless.
Andrea: What the expectations of the fans and the media like?
Jay: They're high!
Jeff Spicoli couldn't have said it better.
Cutler does say something interesting.  When asked about his receivers, he says.  "I'm not sure who we're gonna bring in and who we're gonna keep."
Who we're going to "bring in?"  Interesting.
Talk about breaking Rodney Harrison in slowly.  NBC waits until the fourth quarter to bring him on.  Nobody's watching.  Hell, I'm watching and I'm hardly watching.
Here's Rodney on Josh McDaniels wanting to trade for Matt Cassel.  "I can't understand why you'd want a career backup over a franchise quarterback."
Al is referring to the Bears' Adrian Peterson as "the other" Adrian Peterson.  Excuse me, Al.  He's "the original" Adrian Peterson.
The great Caleb Hanie hooks up for a 43-yarder to Johnny Knox.  Johnny's fast.  Then again, so was Anthony Morgan.
The original Adrian Peterson scampers in from 13 yards out to make it 24-10.
Late in the second half, NBC has a shot of Cutler and Urlacher standing next to each other, watching the game and chatting.
Urlacher: Nice game, Jay.  You're still a pussy.
Cutler: Hey that cheerleader keeps looking at you.  I'll bet there's time for you to knock her up before the game ends.
One thing you can count on in a preseason game is that on a kickoff, no matter how deep in the end zone the kick goes, it's coming out.  After the Broncos score to make it 24-17, Knox catches one about eight yards deep and sure enough, he brings it out.  To the ten.
When Al said goodbye to Rodney he put his hand on his back and started rubbing his shoulders.  It had the feel of "Do you like Gladiator movies, Timmy?" all over it.
The great Brett Basanez leads the Bears down the field, with long passes to the third Iglesias brother and Michael Gaines, and Robbie Gould kicks one through to make it 27-17 and that's how it ends.
So, what did we learn?
That it's preferable to have Jay Cutler to Kyle Orton.  I guess we knew that coming in, didn't we?
Hey, only one more fake game (Thursday night), before this all gets started for real.