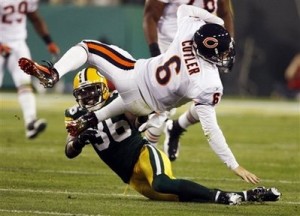 Because our preseason running diary of the Bears and Broncos was such a hit (oh, shut up), let's do it again for the 178th edition of Bears-Packers.
I'm not sure if you've heard that the Bears have a new quarterback or not, but Jake Utler makes his for realisies Bears debut tonight in Lambeau.  Seems like a good chance for the Bears to give the Pack a nice close up for what they're in for for the next decade and a half.
I don't watch the Sunday morning pregame shows anymore.  I just got tired of the four variations of five guys sitting around overlaughing at each other's lame jokes.  So last year the dog and I continued our weekend ritual that started in the spring, through the fall.  I get up, she mopes around until she realizes I'm not going to work.  I go for my run and she loses her shit because she thinks I'll never come back, I return, shower up and we head to the park for our walk (much to her never ending delight), then we grab an early lunch and return to wear a groove in the couch (much to my wife's never ending disgust) for the next 10-12 hours.
But I did catch some of the NBC pregame for tonight's game and I can sum it up thusly:
1. I still love the Keith Olberman-Dan Patrick combo no matter how half-assed the act has become.  It reminds me of a simpler time before ESPN became unwatchable.
2. Tiki Barber isn't in the studio anymore and the farther he gets away from the set, and eventually the cameras, the better.
3. Peter King wore brown shoes with a black suit.  What a fucking mope.
4. Tony Dungy needs to get off Jay Cutler's jock.  His new dopey coach fucked him over in Denver, he demanded a trade, and THEY RELENTED!  Shit, guys demand trades all the time.  The Broncos gave in.  Get over it.  It figures that Saint Tony can forgive Mike Vick for drowning, electrocuting and hanging dogs, but he acts like Cutler crawled into Anne Frank's attic and raped and killed her.
5. Rodney Harrison thought 6:30 p.m. was a good time to tell America about the time his Charger teammates stripped him naked, beat him up, taped his hands and feet and put him in an elevator in a German hotel.  Seriously.
Amy Poehler's mom just interviewed Brian Urlacher on the sidelines just before kickoff and asked him questions about…Jay Cutler.  I'm sure he's not tired of that.
Something named Jordy Nelson broke a 46 yard return on the opening kickoff, and somehow all of the refs missed Corey Graham getting shoved in the back.  Nice.
Collinsworth says the first team Packers offense scored nine touchdowns on 13 preseason possessions.
Al Afalava has changed numbers to 24.  I'm sure that's a tribute to Vestee Jackson.
Pisa Tinoisamoa managed to get hurt three plays into the season.  He may have pulled his groin trying to pronounce his own name for the NBC open.
The Packers may have gone 9-13 in the preseason but they start the regular season 0-1.  And not only do they not score a touchdown, Muppet faced Mason Crosby misses a 49 yarder.  Thanks for the field position, Mason.
The first play of the Bears regular season was an ode to Rex.  Cutler drops the snap and throws a slant about 19 feet over Greg Olsen's head.
Cutler misses an open Earl Bennett and the Bears are going to punt.
GM's new CEO is doing a commercial for them, and if he's not older than Henry Ford, he's got to be close.  Holy shit.  I guarantee you this guy traded a horse in for his first car.
I like how NBC's ads for the terrible idea, Jay Leno Show, as though America has been clamoring for him since he left the Tonight Show.
Who is playing right tackle for the Packers?  Babaar?  How many a's in Babaar?  Two?  Well, I thought you meant right together.  I don't have any.  Children?  No, elephant books.
On third and 12 the Bears pass rush gives Rodgers about 45 minutes to pass.  He finally finds Donald Driver down the seam, and only an Al Afalava hit breaks up the pass.  Yikes.
The first punt return of the season is a bad omen.  Hester turns all the way around trying to break a tackle and gains about two yards.  Yay?
I thought they'd stop the game and give him the ball.  With 8:07 left in the first quarter of the first game of his second season, Earl Bennett catches a pass!
The punt return might have been a bad omen, but Hester's first two receptions of the season are the opposite.  The first, a diving catch down the sidelines.  The second a quick screen where makes about four guys miss and gets a first down.
Cutler throws three straight passes that hit Packer d-backs on the hands.  The third, is finally caught, and Nick Collins stops the Bears drive.  Somewhere, Tony Dungy is smiling and watching a dogfight.
So the new Microsoft commercial is proof that the only person who actually likes the new Windows 7 is a five year old Asian girl?  Solid.
On another third and five, Donald Driver removes Kevin Payne's jock, but Rodgers over throws him, and the Packers have to punt.
With his hair cut, Rodgers looks just like the kid in the T-Mobile commercials who pisses his mom off by refusing to use his rollover minutes.
You know a play is poorly executed when AJ Hawk actually makes a tackle on it.
On third and three Olsen drops a sure first down.  So far, the Bears offense looks a lot like the old one.
Walleye is wearing out Babaar.  He's got two sacks in the first quarter.
Donald Driver spent a lot of time talking about how much better the Packers receivers are than the Bears, but all he's done so far is drop passes.  Maybe he thinks he IS a Bears' receiver?
It's only been a quarter, but it's nice to see the Bears defensive line make plays.  I kind of missed that, since we haven't seen it since the NFC title game against New Orleans.
The Green Bay punter might be the only guy in the game who knows where the end zone is.  He sure likes punting into it.
On fourth and three the Packers clearly run into Maynard on the punt but there's no flag.  I missed the memo where the Packers special teams don't need to follow any rules.
This could be bad.  The Packers just finally figured out where Nate Vasher is, and they're throwing right at him.
Ryan Grant busts two long runs, and the second one gets called back.  But either way it's a bad sign when somebody that slow is ripping off long runs against you.
Somebody Lee gets angry with the Bears for tackling him and throws an elbow at Israel Idonije.  Not a good idea, there, pal.  Israel's a bad man.
Kevin Payne has a chance to tackle Donald Driver at the 40, but Driver gets away and ends up at the 35 where the Muppet can try another field goal.
And the Muppet cashes it in and it's 3-0 Green Bay.
Wendy's is celebrating their 40th anniversary of serving up square hamburgers and runny chili, guaranteed to give you gas that will peel the paint off the walls in your house.  I'll take two!
NBC just had a shot of Vag McCaskey in a luxury box at Lambeau.  She's the only woman under 230 pounds in the entire stadium.
JOHNNY KNOX!  Cutler finds Knox down the sidelines for 68 yards down to the eight.  If Johnny learns to run in a straight line with the ball it would have been a 76 yard touchdown.
And Desmond Clark drops a touchdown pass on second and goal.  Guh.
And then Packers nose tackle Johnny Jolley intercepts a middle screen (a terrible call from the eight yard line anyway) and the Bears will get nothing out of that drive.  Double guh.
On first and 10 from their own 14, Danieal Manning takes the wrong angle and Greg Jennings is wide open.  Thankfully, Rodgers' throw is short and Kevin Payne arrives to break up the play.  I have no idea what Lovie has ever seen in Manning.  The guy can't play safety.  At all.
Collinsworth says that Rodgers is getting gun shy because the Bears keep hitting him.  He might want to get used to it.  The Bears are getting a good rush with just the four d-linemen.  You know, the thing that actually makes the defense work.  (Poor safety play notwithstanding.)
I think I just found a use for Danieal Manning.  He just blitzed and sacked Rodgers for a safety.  Actually, he was playing the nickel, and that might be the one spot on the field he can be good at.  Hell, Ricky Manning could even play that.  (For one year.)
3-2 Green Bay with 5:52 left in the second.
Devin has a nice return on the free kick, but he did the full 360 again and missed a hole where he probably would have had another 10-20 yards.  Knock it off, Devin.
Cutler's getting gun shy, too.  The Bears had a quick screen on and he almost threw it over Earl's head.  Earl having to leap for the ball ruined any chance of it actually being productive.
Then, on third down Jay just heaves it into the middle of the field and Williams picks it off and runs it back to the three.  Where's Kyle Orton when we need him?
Lovie's going to challenge that Williams was out of bounds at the three, because he fumbled after he went out and if he did, the ball went through the end zone and would be a touchback for the Bears.
Holy crap, that Cutler pass was so bad Rex Grossman would have been embarrassed by it.
Lovie challenges that Williams has fumbled the ball before he goes out of bounds, into the end zone and out of bounds, which would be a touchback to the Bears, and despite what Al and Cris thinks, I think Lovie's right.
But referee Ron Winter doesn't think so, and instead of getting the ball at the three, Green Bay gets it at the one.  But I think that was totally worth it for Lovie to try, because in the end, I think the ref got it wrong.  Williams was starting the lose the ball before he stepped out of bounds.
And the lead-footed grant gets into the end zone on the first play.  And Alex Brown gets called for a personal foul after the play.  So it's going to be 10-3 and the Packers will be kicking off from the 50.
Every time a camera catches Zach Zaidman on the sidelines I am startled by just how creepy looking he is.
Garrett Wolfe is in.  His appearances just prove to remind us that he really can't play running back in the NFL.
Not only do the Bears have Wolfe in, they have Olsen lining up as a fullback.  Since Olsen never blocks anybody when he does that, it's just an awesome strategy.
On second and 12 Wolfe takes a screen pass and runs right into Olin Kreutz.  This is awesome.  Better burn this half to a DVD to remember it forever.
Cutler scampers (love that word) for nine yards on third and 11.
Collinsworth thinks Cutler was sacked for the safety, instead of Rodgers.
The Bears player of the half, Brad Maynard nails another great punt that leads Nelson out of bounds at the ten.
Rodgers just bounced a pass off of Mark Anderson's chest.  Apparently, Anderson's not Johnny Jolley.
So far, the only difference between these two offenses is that Cutler's passes to the opponent have been more catchable than Rodgers'.  Both QBs are under seige.
And fittingly, the half ends with Cutler having to run to avoid a sack, then aeaving it desperately down the field and off a receiver's hands.
Cutler promised Amy Poehler's mom that he won't throw three more picks in the second half.  He said nothing about four, though.
Jay starts the second half with a nice touch pass to Earl who makes a good diving catch.  Forte gets stopped two inches from a first down, at the Green Bay 36, so it's fourth down.  Last year the Bears were crap at this last year.  Let's see how it goes.
And…the Bears line up with McKie, Olsen and Forte in the backfield and….call a time out.  I'm sure that won't come back to haunt them.
The cat and dog are both eating chili right now.  It's going to be a fun night in the Dolan house.  Better leave the windows open.
Cutler sneaks and gets it.  The Packers all point that he's short, because they're morons.
Cutler goes deep and throws a perfect pass to Hester for a 35 yard TD.  Hey, the Packers defense is starting to round into form.
Robbie knocks it in and it's 10-9, Green Bay now.  The Bears actually made adjustments at the half. What a novel idea.
I'm sure the Packers fans are enjoying the hell out of the Brett Favre Sears commercial where he can't decide which TV to buy.  Then again, who cares about Packers fans?  Not me.  Not Brett.
Urlacher is out with a bad wrist, and Tinoisamoa hurt his knee, so enjoy the Hillenmeyer and Roach!
Rodgers does not enjoy the Roach, as Nick hits him and he bounces into the arm of Afalava for a sack.
On the next play, Rodgers has all day and get bailed out when Nelson drops a wide open pass.
The Packers try a middle screen of their own and it's almost intercepted.  See, Cutler's just that much more accurate, I guess.  His get caught.  By somebody.
Devin runs about 70 yards and ends up about seven yards from where he fielded the punt.
As much as Collinsworth wants to suck off Dom Capers and that awesome combover for him, the Bears defense has been pretty damned good.  The only Packer touchdown drive started at the Bears one yard line.
Finally.  After 10 years, the Bears have finally learned to throw the quick stop to the wide receiver without jamming that side of the field up with a "blocker" who never has time to block anybody, instead just brings another defender over.
Clark is wide open down the middle and gets inside the 20, where he's hit right in the spine by a Packers DB.  Ouch.
Nice of Al to make up a story about talking to a Bears fan at halftime who had his Cutler jersey turned inside out.  Like Al would ever leave the TV booth and have to mingle with the unwashed masses.
The Bears follow that up with a false start (it looked like Kreutz forgot to snap it and everybody else went) and then Cutler gets sacked and at the end, Aaron Kampman takes a cheap shot on Cutler.  Where's Ken Stills when the Packers need him?
I don't get this Cialis commercial about "what it takes to get out of those tubs?" You mean when they ran those dumb assed commercials where the old couple took outdoor baths in separate bathtubs it wasn't after gettin' it on?  Were they just JO'ing in the tub?  I'm so confused.
Typical Bears, bullshit.  On third and 22 they run a draw.  Forte gets a yard and Robbie's in to kick a 47 yard field goal to give the Bears the lead.
Robbie does, what Robbie always does.  He nails it and for all the sturm and drang about the terrible first half, the Bears lead 12-10.
Green Bay has started making some hay on the ground.  It's not that surprising considering the Bears only have one starting linebacker left in the game.
The refs blow a call when they allow the Packers to down the ball inside the five (the gunner had his foot on the end line), but the Packers get caught holding before the kick so they have to do it all over again.
After a Packer touches it, a Bear tries to run in and grab it (once the kicking team has touched the ball but not downed it, the receiving team can advance the ball at no risk–if you fumble and lose it the ball goes to back to where the kicking team touched the ball and it's still yours), and two Packers start shoving him, and that doesn't draw a flag, either.
On third and five, the Bears convert with another pass to Earl, but Earl lined up offsides and its all for naught.  There's no reason a receiver should ever line up offsides.   You get to ask the ref if you're OK before every play.  Guh.
And on third and 11 the Bears fail to convert.  Nice going, Earl.
And, the Bears must have money on the Packers.  They try a fake punt with Garrett Wolfe and he only comes up about seven yards short of a first down.  That's one of those "automatics" the players can call themselves.  And that's a terrible time for it.
Lovie's challenging that Green Bay had too many men on the field.  He ought to be challenging that the Bears had too many dumbasses on the field.
On the replay, it's not even close.  The Packers ran their extra man off the field in plenty of time.   And on the replay, you can tell that Wolfe didn't know the ball was going to be snapped to him.  This is helluva way to win a football game.
I saw Purdue lose a game at Notre Dame on that exact same play once, and I thought Joe Tiller was a dumbass for having that option for one of his punt team members to call.  So I pretty much feel the same way about it for Lovie now, too.
Challenged.  The Bears defense starts by dumping Ryan Grant for a three yard loss.
On third down at the 23, Rodgers runs for a first down, but there's holding on the Packers and now they're back on the fringes of the Muppet's range.
They get almost all of the yards back.  Nate Vasher makes a nice tackle to keep Jennings from getting past him for a first down or worse.  So the Muppet will kick a 39 yard field goal for the lead, and he makes it.  So the Bears defense has now allowed scoring drives of one and eight yards in a 13-12 game.
How many Packers DBs have dreadlocks? That has to be the smelliest secondary in the game.
After a phantom illegal contact penalty, Hester takes a quick stop and breaks it for about 30 yards and into field goal range.  And the Bears have to piss away another timeout.  They are out now.  Awful.  This timeout usage is so bad you'd think Charlie Weis is in charge of it.
Al and Cris show a replay of the phantom illegal contact penalty and it shows Devin lined up wrong.  But don't they know the fight song?  "Oh, how you thrilled the nation, with your illegal formation!  Bear down, Chicago Bears!"
A nice first down conversion on a pass to McKie.  The Bears really need a TD here, but they are comfortably in field goal range now.  Still, the Pack can manage a field goal drive, I don't think they can match a TD.
On second and six, Forte carries about four Packers for a first down.  That, is why he is awesome.
You wonder if the Bears are running better because Kellen Davis is in instead of Clark, so the Bears actually have a tight end who can block.
Suddenly, the Bears are attempting nothing but runs.  It could be to get the Packers to start using timeouts, but it's now third and goal from the three.  The best down to throw near the goalline is first, the worst is third.  So guess which one Ron Turner's going to call the pass on?
On third and goal, Cutler has to throw it into the stands, so now Gould will kick for the lead, but Green Bay will have 2:30 and all their timeouts to get a field goal.
Blecch.
Robbie nails it, and if he'd somehow missed, the game would be over, because the Bears have no timeouts left.  Green Bay could have taken a knee and run out the rest of the game.
We now "know" that Patrick Mannelly called the fake punt because he thought he could catch the Packers with 12 men on the field.  It would be a five point lead (not two) if he'd just snapped it to Maynard while attempting the same damn thing.
And at the two minute warning the Packers have first and ten at their 40.  They only need about 30 more yards.
Rodgers slides late (like Derrek Lee) and gets hit on a scramble and begs for a personal foul.
Green Bay has third and one at the 49 with 1:18 left.
Rodgers hits Jennings for a touchdown, leaving the Bears with 1:11.  It looked like Babaar held Walleye, but it wasn't so egregious that it had to be called.  And for some reason the Packers are going for two.  Apparently they think Robbie will miss an extra point.  They convert, but it doesn't matter.  21-15, Green Bay.   Nate Vasher got beaten by Greg Jennings worse than Rihanna got beaten by Chris Brown.  Ouch.
Without the gift three points Patrick Mannelly and the Bears special teams gave Green Bay, it would be a three point game right now.
On the kickoff, the Bears have Hester stashed in the middle of the formation to try to grab a squib.  But it goes to Earl who ends up on the 38.  All right, Jay.  Here we go.
And Cutler throws his fourth pick of the night and it's over.  And it's pretty clear that Johnny Knox ran the wrong route.  They called a slant and for some reason he ran about three steps worth of the slant, and then stopped.
So the Packers can take a knee and end it.  And they'll be 1-0, the Bears 0-1.  And I can't wait for a week's worth of whining talk show hosts and overreacting Bears fans.