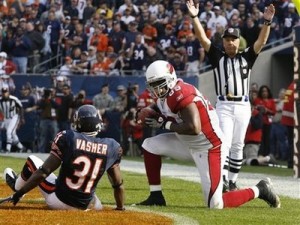 In another matchup of the only two professional football teams to call Chicago home, the Cardinals and Bears are getting the full Fox treatment today.  Joe Buck and Troy Aikman are at Soldier Field to call the action.  This will be great.  Joe does smug so well, and Troy comes in handy because he loves to read the graphics on the screen to us.  Great?
If you're wondering just what a rag-tag league the NFL was early on, the reason the Bears colors are navy blue and orange, and the Cardinals are red and white is because they used to use the leftover jerseys from the University of Illinois (navy and orange) and the University of Chicago (maroon and white).  Over the years, the Cardinals lightened up their red, but now you know the rest of the story.  And I'm sure you wish you had cared to learn any of it.
The Bears won the toss and deferred to the second half, so they're kicking off to the Cardinals.
Anquan Boldin is out, which is good for the Bears.  But I don't know how much it matters.  They have to put Peanut Tillman on Larry Fitzgerald on every play, and Zach Bowman can't cover Steve Breaston any better than he wouldn't be able to cover Boldin.
After an incompletion off Fitzgerald's hands, my TV is broken because it shows Tommie Harris blow up the center and force Kurt Warner to throw it away.
But on third down, it's fixed as Warner finds Breaston wide open for 20 yards.
Tim Hightower runs for 13 yards right over Tommie Harris.  Tommie gets his revenge by picking up a personal foul for punching Deuce Latui in the face after the play.  Oh, and Tommie gets ejected for it, too.  The good news, Urban Meyer just offered him a scholarship at Florida.
I'm just going to throw this out.  But given his strange behavior the last three years, is Tommie Harris clinically insane?  When you find yourself longing for the calming influence of Tank Johnson, you know things have gotten bad.
Ed Hochuli described what Tommie did this way, "He slugged a player in the head."  Even Hochuli has picked up on how sluggish Tommie has been.
Thirteen yards to Fitzgerald, followed by seven for Beanie Wells.  And Helen Huntermeyer is injured on the play.  The Bears are running out of linebackers, anybody have Cliff Trift's phone number?
Troy Aikman says that the only team to score more points on their possession this year than Arizona is New Orleans.  But that's not how Troy said it.
"No team has scored more points on their opening possession on offense to start a game than the Cardinals except the Saints."  Well said, Troy.  Very succinct.
Fitzgerald catches a short pass on third and three and nobody tackles him so it's 7-0 Arizona.  Pitchers and catchers report in 92 days.
And if you don't think I've started working on baseball graphics for the home page…well, I am.  As always, in Chicago, the best season is always the one that hasn't started yet.
Danieal Manning returns the kickoff to the 26, but there's a penalty so the Bears will start on the 10.
First down Jay Cutler to Greg Olsen for nine yards.
Cutler and Earl Bennett hook up for a first down.
Then Cutler makes a great throw down the sidelines to Devin Hester who makes a catch with Dominique Rogers-Cromartie hanging all over him for 30 yards down the sidelines.  Nice.
After another short gain to Bennett, Cutler makes a throw that no Bears quarterback has made…ever.  He dropped back, took a couple of little steps to the left to get and opening and then threw an absolute laser to Olsen, a throw so hard and so perfect that the two Cardinals covering Olsen had no idea the ball was even on its way.
Cutler goes 5-6 for 90 yards on the drive including the 33 yarder to Olsen for the touchdown.
I'm just going to throw this out, and granted, I'm a world class moron, but the Bears have basically admitted that Olsen's not much of a blocker at tight end.  Also, the one thing Danieal Manning has going for is his incredible speed and when he has the ball he does a lot of good things with it.  So Olsen sucks at tight end, and Manning sucks as a defensive back.  Why don't the Bears just play both of them at wide receiver?
Even on that last touchdown, Olsen lined up wide.  He's carrying 20 extra pounds because he needs it to line up at tight end.  Why not let him dump that weight and just terrorize defensive backs without spending two of every three plays being smacked in the head by a defensive end?  OK, it's crazy talk, I know.
But I hope whoever is coaching the Bears next year thinks long and hard about playing Manning at wideout.  I don't think you need to be nuts to think that move would work.
Hey, score one for the shitty Soldier Field playing surface!  Cardinals coach Ken Whisenhunt kept Boldin out of today's game because he felt the field was way too "soft."  Much like the Bears defensive backs!
And after a ludicrous diving catch by Fitzgerald, Wells gives Manning a piggyback ride for four extra yards after Danieal jumped on him.
I hope the park district replaced the bulbs in the scoreboard, they're all going to get used today.
After a false start that wasn't, so the refs give a "re-do", Hightower catches a pass for ten yards.  Well, it should have been seven yards, but four Bears were too busy trying to grab the ball and not him for three yards.
Alex Brown chases down the speedy Warner for three yards, and then the immortal Early Doucett catches a pass for 11 yards.  The Bears defense is not a sieve, because even sieves stop at least a small percent.
After another Hightower run, Ben Patrick catches a nine yard touchdown pass from Warner.  3:30 left in the first and it's 14-7.
Johnny Knox returns the kickoff 30 yards and almost broke it.
Cutler goes deep to Hester and it's incomplete.  The Bears have run seven plays on offense, all passes.
The eighth play is a four yard rush by Forte.  Then 13 yards on a pass from Cutler to Forte for a first down.
The Bears try an end around to Hester and though Olin Kreutz pulls to block the edge he doens't actually block anybody and Devin loses ten yards.
Cutler drops back, scrambles and get lit up after a three yard gain, and Troy describes how terrible Bears receivers are at continuing to run to find open space when Cutler leaves the pocket.
To illustrate, on third down he scrambles again and the only guy who can open is Forte and he gets five yards when they need 16.
In a game that looks like first to team to punt loses, the Bears are the first team to punt.
How's this stat?  Brad Biggs tweets that the Cardinals are averaging only 64 yards rushing per game and already have 51 in the first quarter today.  Then, Football Outsiders tweets that the 64 yards the Cardinals are averaging on the ground is the worst since the NFL-AFL merger in 1970.  Holy shit?
Pam Oliver says that Lovie pulled the defense over and told them they need to "communicate" better.  In other words, when you're about to miss a tackle yell, "Not it!" so the other guys know.
First down, from the AZ 30, 15 yards to Doucett.  Second down, 30 yards on the ground by Wells.  And, ten more yards of Manning getting a ride.
Third and five from the 25, Arizona calls timeout.
Fox shows Mark Grace watching the game from the stands.  Joe says that Mark is "beloved here in Chicago."  And he is, by half the town, anyway.  So much so that Sammy Sosa has decided to become a white man to try to compete.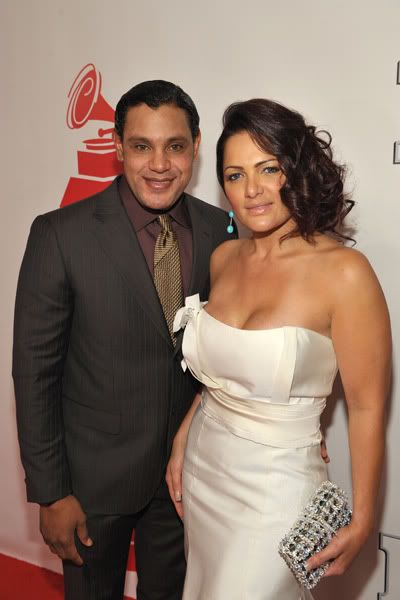 Warner to Fitzgerald for eight yards and a first down, then again on the next play for a touchdown.  11:19 left in second quarter and it's 21-7, and the humiliation is on!  Great.
Here's one for the indignity file.  The Cardinals pop up a kickoff to avoid kicking to either Manning or Knox and Rashied Davis just lets it go.  Cardinals linebacker Will Davis jumped on it, but must have lost it in the pile because the Bears keep the ball, but that was terrible.  But since the list of terrible is long today, it's fairly low on that list.
After connections to Devin and then Earl for a first down, Cutler is 8-10 for 126 yards  and a TD.
Forte finds an actual hole and runs through it for 16 yards.  Seriously.  It's on tape and everything.
He follows it up with five.  Could it be that the pass has opened the run?
Aikman mocks the fact that the last play included a fake end around to Hester.  As Troy says why would that be considered a threat?  Whenever the Bears run that it loses yards.
And Darnell Dockett sacks Cutler so now it's third and 15.  Maynard warms up on the sidelines.
Third and 15, remember?  Three yard pass to Hester.  Kyle Orton applauds.
Maynard's kick is fielded at the 13 by Breaston and apparently Rashied thinks a fair catch has been called because he just stands next to Breaston.  Thankfully, Darrell McClover tackles him at the 15.
Adam Schefter just tweeted that Peyton Manning has thrown 25 passes in the first quarter against the Texans.  "He's on pace for 100 passes."  Thanks for doing the complicated math for us, dipshit.
Fitzgerald drops a pass, then Wells runs for five yards.  Don't look now!  The Bears could force a punt!
Or, they could throw a three yard pass to Breaston and he could break a tackle and get a first down.
Tim Hightower for 14 yards.
Hey, maybe Lovie, the defensive expert head coach should take over the defensive play calling!  Oh, wait, never mind.
Israel Idonije grabs Warner but can't bring him down, then Warner throws an end over end wobbler to Anthony Becht that is just begging to be intercepted.  Instead, it falls harmlessly to the ground.  Then Hightower gains five yards.  Here we go again.  Third and five.
Guess what?  Early Doucett for six yards from Warner.
Joe just rattled off the defensive rankings the past few years and said, "This Bears defense has become average."  Hell, we'd kill for average right now.
Arizona tries and end around to Breaston and the Bears bottle it up , and he breaks a tackle and gains TWENTY-FIVE yards.  Guh.
Joe informs us that the Cardinals have already reached their season high in rushing yards, and we're not even to the two minute warning in the first half yet.
Next play, Warner finds Becht at the five and he dives in for the fourth touchdown in four possessions.  The good news, still 33 minutes to go!
28-7.
And, we learn that Peanut has injured his shoulder and is probably done for the game and Al Awfulava is hurt and he's probably not returning, either.  Hell, instead of moving Manning to WR, the Bears might need to have Earl and Devin play defense just to finish the game.
Another popped up kickoff, this time Rashied catches it and runs around and doesn't gain any yards.
Cutler fires one through traffic to Earl and Joe gushes about Jay's arm.  Troy mocks the Bears for having a converted DB, a rookie and a second year guy as their only wide receivers.  But he forgot the former Arena Football League DB!  Can't forget Rashied.
After the two minute warning, the Bears runs a screen to Forte for 20 yards down near the Arizona 30.  Then Cutler fires one to Olsen for 15 yards to the 15, and there's a flag!  And it's pass interference!  And it's on…
Olsen.  Ugh.
Fox gets a good shot of Olsen saying, "That's bullshit."  Whether he's referring to the call, or the play of his team, he is 100 percent correct.
First and 20 Cutler, who is throwing the shit out of the ball gets one between two Cardinals to Devin, but Devin can't catch it, and he begs for pass interference.  But he doesn't, and probably shouldn't get it.
Second and 20 Cutler rolls and tries to squeeze one into Devin.  On the replay it looks like all 11 guys were surrounding Devin.
Third and 20, Jay hooks up with Johnny Knox for 10.  Lovie sends out the field goal team to cut it to the all-important 18 points.
Here's how bad the defense has been.  Lovie was willing to take a delay of game to burn off most of the remaining clock before kicking the field goal.  But Arizona realizes they can score at will.  So they call a timeout with :32 left.  This happens all the time, right?  Yeah, but today, it really does feel like it's enough time for a fifth Cardinals touchdown before the half.
Robbie Gould's 48 yard field goal attempt is blocked.  Antrel Rolle had lined up in the end zone to return the kick if it was short, and so he's there to catch it.  It looks like he'll be tackled at the five, but he's not, then he gets a few blocks, and 58 yards later, Gould's diving tackle is all that stopped him from scoring a touchdown.  With :22 left in the half, the Cardinals are looking at two passes and at least a field goal attempt.
The first one gets them to the Bears 41.
The second pass, this one to Fitzgerald, gets them to the 25, puts them over 300 total yards for the half, and gives them enough tie to kill the lock and line up for a 42 yard field goal.
As the half ends, Rackers makes the field goal and it's 31-7.  I missed the Bengals game, so I fear this is my penance, and all of you get to suffer doubly.
Hey, better you than me.
The Bears get the ball to start the second half.  Which is good.  Until they use just over a minute of clock and punt it to the Cardinals.
Fox has a replay of Cutler getting face planted into the turf on his last pass attempt.
Oh, and to make things worse, Garrett Wolfe is out with a sore back.  Noooooooooooooooooooooo!  Will it never end?
Third and two and for at least the fifth time today we see Danieal Manning unable to tackle Wells and riding on him for six yards.
Fox just showed the drive chart for the Cardinals.  Five possessions.  Four touchdowns and a field goal.  And as if Troy needs to remind us, he explains that only reason the fifth possession was a field goal was because they ran out of time at the half.  We know, Troy.  We know.
Third and eight and the crowd starts a hopeful cheer for the first punt of the day.  But Zach Bowman is now covering Fitzgerald so…you know.
Arizona runs the same play to Fitzgerald twice in a row and gets 15 yards each time.  And both times the tackles were made by Bowman and Kevin Payne.  This is what it's come to.
The Bears stop the Cardinals on third down!  Even if it is a dropped screen pass to Hightower and the Cardinals are in field goal range.  The Cardinals converted their first EIGHT third downs.  Wow.
Rackers makes the 30 yard field goal and it's 34-7.
The Cardinals are back to kicking off deep and Manning returns it 40 yards to the 40.  I promise I'm not going to harp on this.
But.
Only thing.
Does well.
Runs fast.
With fastball.
Never mind.  There's no way in hell anybody is still reading this.
How's this for back to back plays?  First, the entire Bears offense moves but Kreutz doesn't snap it.  Then, on the next attempt to run a play, Kreutz starts to snap it and then stops.
Troy says he thought high school football was played on Friday.  Hee hee.  Keep it up, concussion boy.
Earl takes a stop route and breaks it about 20 yards up the sidelines.  First down at the Arizona 40.
Joe wonders how the Bears will make the playoffs.
Playoffs?
Playoffs?
Stop mocking us.
Fourth and four, Cutler throws it to Olsen who is being tackled by Adrian Wilson.  No penalty is called for pass interference.
But wait, there is a flag!  It's unsportsmanlike conduct on Cutler for arguing about lack of a pass interference call.
Rick Morrissey is at home pulling down his pants to celebrate the birth of his column for tomorrow.
A lot of air will be spewed this week about whether or not Lovie should be fired after the season.  And given the McCaskey's fear of paying coaches to not coach even if the rest of the season goes like today it's probably 50-50 at best…  But the way the Bears have played since the bye is the kind of thing that gets coaches fired during the season.  During, not after.
And, with 5:38 left in the third, after three incomplete passes, the Cardinals are punting!  Hallelujiah.
Troy and Joe are giving Bears fans credit for not leaving Soldier Field.  Troy even gives Cubs fans a shout out for no apparent reason.  But when he says, "These Chicago fans are passionate and smart."  He's overreaching.  Want proof, Troy?  Tune in Buffone and O'Bradovich's postgame show right after this great effort and you'll hear the smart fans calling in to vent.  You'll be impressed.
The first punt of the day for Arizona pins the Bears at the three.  Of course it does.
Cutler screens to Forte who makes a nice move and goes up the sidelines for 25 yards.  One problem, Olin got caught holding…on a screen pass…when he wasn't out in front of the screen pass.  Hey, at least he wasn't in the end zone when he did it.
The do over is an incomplete pass, and now Maynard is punting out of his end zone.
Joe says the Cardinals are averaging 7.4 yards per run today.  That's just a little bit better than the 3.3 yards per game (second worst in the NFL) they were averaging coming in to the game.
Anthony Adams stops Hightower on third and another punt.  Hot damn, the defense is crackin' now!
Earl is having a good game, and makes another catch on a bullet of an out pattern throw by Cutler for 15 yards.
The Bears let the last 17 seconds of the third quarter tick off as some fans boo.  I agree, it's only a 27 point game.  You need every last second!  Shit, you are only four touchdowns away from a win! It's only taken 11 quarters to score your last four touchdowns, this should be easy.
Here's how bad this game is.  Matt Leinart is coming in for the Cardinals.  Who's next, Neil Lomax?
Cutler starts the fourth with an eight yard pass to Des Clark and a 16 yard pass to Devin.  Jay's lighting it up, not that the score indicates it.
Hes' 20-30 for 267, and before I can finish typing he's 21-31 for 280.
Forte takes a screen pass 28 yards to the ten.  Troy is talking about taking Cutler out after this drive so he doesn't get hurt in a blowout.  A coach who isn't fearing for his job might do just that.
Cutler finds Olsen inside the five.  You know, Arizona's defense is bad.  And they are still crushing the Bears.
Cutler finds Olsen for his second touchdown of the day.
Only three more touchdowns to go!
34-14.
Fox show us Vince Vaughn and Richard Dent hanging out on the sidelines, and Vince is looking…
…healthy?
…well fed?
Leinart's first pass is almost picked off by Kevin Payne, but it wouldn't have mattered, because Nick Roach is called for interference.  This isn't going to help our big comeback, Nick!
Troy blames the interference on how terribly thrown Leinart's pass was.  I'm sure Matt will be happy to hear that.
Leinart's next pass is even more terrible and it's thrown right to Zach Bowman.  Bowman returns it to the Arizona 30, and Kurt Warner grabs a football and starts to warm back up.
First down, Cutler just misses Devin on the sidelines.
Second down, Knox takes a screen for eight yards.
Third down, a third touchdown pass from Cutler to Olsen.  A great throw that got it to Olsen between the defensive back and the safety, with enough room to duck being obliterated by the safety.
34-21.
Warner is back in and finds Fitzgerald for ten yards on first down, but former Bear Mike Gandy is called for a leg whip on Alex Brown.  Half the distance to the goal line.  First and 20 from the ten, and the Bears fans who never left are making some noise.
Warner is sacked by Alex Brown at the five and fumbles, Gandy recovers for the Cardinals.  That could have been complete disaster for Arizona.
Second and 25, Brown gets there again and Warner's throw is tipped and lands nowhere near its intended target. Third and 25 from the five.
Warner gets all day to throw and finds Breaston at the 29.  The 30 was the yard to gain.  Fourth and one and the Cardinals have to punt.
Whisenhunt decides to challenge the spot, it was pretty close.  However, he does it with 21 seconds on the play clock and the clock at 7:18 in the game.  Why not wait until there's one second left on the play clock and do it?  If he loses the challenge he loses a timeout, so the clock will stop at 7:18 until the punt.  Just seems like a team up by 14 points would want as much time to run off the clock as possible.
And he loses the challenge, and he saves the Bears at least :20.
And, Devin gives most of the time back by fielding the punt on a bounce then dancing around and not gaining any yards.
If nothing else, the Bears rally gives Fox a chance to run their montage of plays from the 2006 comeback in Arizona and Denny Green punching the podium.
Cutler has Knox down the field, but underthrows him and no interference is called.  Second down, Clark Haggans knocks down Cutler's pass.
Third and ten from the 17.
And there will be no comeback today.  Cutler throws late over the middle and it's picked off by Matt Ware.  On the replay we see that Earl Bennett got cut off on his square in and decided to take the easy route and turn it into a square out.  Cutler's throw went to where he thought Earl would be.  That's 12 picks for the season by Cutler and he's made his share of bad throws, but probably half of those would have been prevented if his receivers could get to where they're supposed to be.
Warner's throw to Breaston at the goal line is first ruled a touchdown, then not a touchdown.  Looks like he was down at the one.  Ahh, what the hell, the refs give him the touchdown.  41-21.
Now down 20 points again, there's no reason for Cutler to still be in the game.  All that can happen is that his shitty line can get him killed.  Why you wouldn't want Caleb Hanie to at least take a few snaps is beyond me.
If Jay gets hurt you take a terrible, embarassing (and very telling) loss and turn it into a complete tragedy.
Down 20 with 1:43 left and Arizona ball, the Bears are calling timeout.  Fox has a good shot of Larry Fitzgerald hearing the whistle, looking around and going, "What?  Why?"
Hey Larry, we say that all the time.
Third and inches the Bears finally tackle Beanie Wells, stop him short of the first and call another time out.
Great, more chances for the Cardinals to hit Jay!
Troy jokes that Cutler was probably hoping the Cardinals would get that first down to avoid being killed, or worse.
The original Adrian Peterson runs for a first down with :12 left and the Bears just let the clock run out.  Oh, so that's what they were calling those timeouts for.
And mercifully it ends.  Arizona 41, Chicago 21.
Can't wait for those two Vikings games, they should be just awesome.
This is a Bears team clearly headed in the wrong direction.  Too many unproductive drafts.  Too many mediocre free agents pursued.  They are 4-4, the easy part of their schedule was behind them even before today.  This isn't a playoff team, and worse, it's a team without many good young players.  You've got a quarterback, one linebacker, a running back you're optimistic about but no longer sure of, and a lot of mediocrity.
As much as I hate to join the meathead chorus, this looks like a team that needs to start over.  Lovie Smith has been there six years, and he's produced two playoff teams and has two playoff wins.
Jerry Angelo has been there eight years and he's got three playoff teams and two playoff wins under his belt.
They both should get on their knees and "thank" Ted Phillips for unwarranted contract extensions.  And Ted can always thank the incompetent prince, Mike McCaskey for his undeserved job.
Somebody tell Vag McCaskey she can't have any pudding until her teams wins another playoff game.  Maybe that would spur some action.