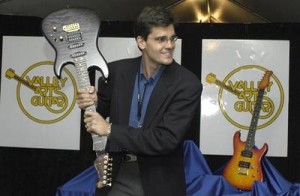 Far be it from me to celebrate anyone losing their job.
Well, come to think of it, I can make one exception.  The New York Times is reporting that the Turner Broadcasting System has told the lead play-by-play voice for its national baseball broadcasts that they no longer want him bloviating into their mics.
For the third contract in a row, Chip Caray has been told "Yeah, that's probably enough."
Back in the late '90s, you might remember that Chip was the host of Fox's pre-game baseball telecasts.  It's why, when you see rebroadcasts of some of the Sammy Sosa freak show homer games from late 1998 you are as likely to hear Dan Roan or Wayne Larivee doing it as you are Chip.  He was gone every Saturday to LA to do the Fox stuff.
When that contract ended, Fox told him to just go concentrate on his job with the Cubs.
At the end of the awful, horrible, 2004 season, the Cubs informed Chip that they had no interest in the exclusive re-negotiation window they had, and that he should just go find a job somewhere else.  So he ended up at TBS with his dad, doing Braves games.
It looked like a coup for him as TBS was in the process of picking up a national TV package and playoff games starting in 2007.  Three postseasons later, and TBS has told Chip they no longer want him fucking up their telecasts.
If he wasn't so ponderously vapid, this might be hard for the Chipster to take.  But I'm sure that when they told him this last week he drove home to Orlando and told his imaginary wife and his imaginary kids that he was out of work again, but that something neat-o would come up.
For two decades, Chip has cashed in one of the most famous last names in broadcasting for prime job after prime job.  And, in each case, his complete lack of ability to do the job has become more and more apparent as his audience has grown.
His performance during the last three postseasons was embarrassing, and a nightly reminder that he didn't have a grasp of the sport he was calling.
Chip has always been a testament to style over substance, and that style is of an '80s deejay with a painfully affected radio voice trying to make every moment so dramatic that the truly dramatic moments have no where to go.  It was as if someone cast Shadoe Stevens as a baseball announcer.  He was the Scooby Doo narrator trying to call important, nationally televised baseball games.
Who TBS will replace him with is anybody's guess.  Their "stable" of baseball announcers during the playoffs was woefully weak at best.  Dick Stockton announced games from his coma, excitely telling us that Adolfo Soriano was playing for the Cubs.  Don Orsillo and Brian Anderson are the Tylenol PM of baseball announcers.
TBS would be wise to replace Chip with the man who replaced him on Cubs broadcasts.  But it's entirely possible that Len Kasper's WGN and Comcast contracts would prohibit him from being able to do the Sunday afternoon regular season games that nobody in America even remembers are on TBS.
Whoever they pick, it will be hard for them to find a worse announcer than Chip.
Where will he end up?  He grew up in St. Louis.  He was always Cardinals obsessed during his days with the Cubs, and the hillbilly dipshits who compose about 98 percent of that franchise's fan base would eat his corn pone act up.  It was the role he was born to play.  From his overweight, tuba-playing high school days in St. Louis to his embarrassingly hack performances as the play by play announcer for the Seattle Mariners, Orlando Magic, Chicago Cubs, Atlanta Braves and then TBS playoff coverage, Chip's destiny was always to return to St. Louis and surround himself with other simple-minded idiots just like him.
St. Louis and Chip Caray?  They deserve each other.
Fisted!
Indeed.