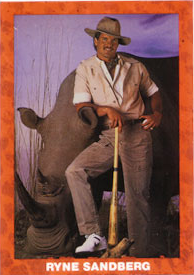 The Cubs announced yesterday that Ryne Sandberg is going to manage the AAA Iowa Cubs this season.  This news, that their beloved Hall of Fame second baseman is that much closer to managing the "real" Cubs has some Cubs fans really excited.  Then again, some Cubs fans get really excited about buying one of those big, foam, red and blue bear paws.  In other words, because there are lots of Cubs fans, there are lots of really dumb Cubs fans.
Now I'm not saying that if you want Sandberg to be the manager some day, or that if you think he'll be a really good manager that you are dumb.
But I am saying that if you are in a hurry for him to manage the Cubs, then yes, you are dumb.
The Cubs currently have a good manager, the best manager they've employed since Charlie Grimm.  I'm not even making that up, that's how many lousy managers the Cubs have had.  In true Cubs style, Grimm managed the team from 1932 to 1938, then again from 1945-1949 and then again in 1960.  In 1960 he only lasted 50 games and then left for health reasons.  He was sick of watching the Cubs lose.  They swapped him for Lou Boudreau, and Lou came out of the radio booth to manage, and Charlie went up to announce.  He won three pennants with the Cubs a manager and player/manager.
From 1949 until now the Cubs have had 32 men manage the team for more than two games (there's an odd Rene Lachemann here and a John Vukovich there) and of those thirty-two men, guess how many of them finished their Cubs careers with a .500 record or better?
Five!  Five of 32.  What a proud franchise we root for.
Those five are Jim Lefebvre (.500), Leo Durocher (.504), Don Zimmer (.507), Jim Frey (.519) and Lou Piniella (.548).  So by all means, lets get rid of Lou as quickly as possible.
Chances are that Lou is going to retire after this season.  That was his plan all along, but he's starting to think twice about it, and you can tell.  Last night he was on the MLB Network with Bobby Cox and they were talking about how this was going to be Bobby's last year, and Lou had plenty of chances to point out that he was leaving, too, but he didn't.
I am an unapologetic Lou supporter.  I was glad when they hired him, and I'm glad he's still there.  How quickly we forget how much the culture on the team has changed from not just the Dusty Baker regime, but every one before it.  The Cubs had a crap year last year, everybody got hurt and even a few who didn't just sucked, and we've seen it all before, and it always ended with them completely tanking and going 68-94.  But they're a real baseball franchise now, one that doesn't just look for the first excuse to get in a bag and drown, and while 83-78 sucks, it showed where the bottom ought to be for this franchise.
It's a franchise with a $140 million payroll, in the third largest market in the country, in a division full of medium-market teams.  Eighty-three wins should be the fewest this franchise wins in a given year.
I credit a lot of that to Lou.  Now I cannot argue with you that the postseasons have been disastrous.  How can you argue about 0-6 in two trips?  You can't.  And, you can certainly argue that there's no way Carlos Zambrano should have left game one in 2007 after six innings, or that Kosuke should have been on the bench in game two in 2008 and that it's awful that Ted Lilly didn't get a start in those playoffs.
But I also don't believe that the 2007 Cubs are in the playoffs without Lou, and that turning this woeful franchise around this quickly allowed them to build on it for 97 wins in 2008.
Given the state of the NL Central, and the fact that the Cubs should be pretty good again in 2010, if they flop like they did last year again, then you can make your case that it's time for a change.
Even then, I'm not so sure that I'd hire Ryne Sandberg.
Being a great player won't make you a great manager.  And neither will bolstering your tough guy image by getting thrown out of lots of minor league baseball games.  I just get this image in my mind of seeing Sandberg standing in the dugout looking confusedly at the field wondering what the hell is wrong with this team.  I don't really want to see that happen.
But you guys know that I'm wrong about lots of stuff.  So I could certainly be wrong about this.  But for the life of me, I just can't understand what the hurry is.  Are we worried that another big league team will swoop in and hire him?  That wouldn't be the worst thing in the world.  I don't think the Cubs should be a team that breaks in new managers.  You don't think it helped Joe Girardi to go manage in Florida for a year before he took over the Yankees?  You don't think Terry Francona was better prepared for what he was in for in Boston because he'd managed the Phillies?
Sure it could work, and if it did, it would be really cool.  But how many really cool things ever happen for the Cubs?