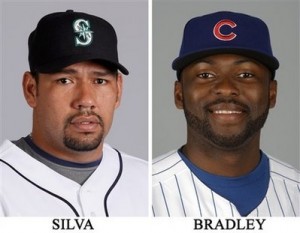 If there was any wonder whether the Cubs were going to trade Milton Bradley this offseason, it probably ended the night Lou Piniella was asked at the winter meetings what they were going to do with him and he said, "Look, ah-ah, he played 125 ah-ah, 130 games for us last year, ah-ah, he, ah-ah, look, we're trying to trade him."
We need to play poker with Lou sometime.
And so in the tradition of office Christmas parties all over the country, Jim Hendry of the Cubs and Jack Eyechart of the Mariners played a little "Yankee Swap" and gave each other hilariously overpaid baseball players.
The joke, of course is on the Mariners.  For all of the great work they have done in the past 14 months putting that team together, they would have been far better off just waiving the awful, horrible, Carlos Silva instead of trading him and sending $6 million in cash to the Cubs for the biggest turd in the history of baseball turds.
For those of you who are upset that this is all the Cubs got for Bradley, you have no point.  He could not come back.  He should not have been brought back.  Signing him was a huge mistake, giving him two years with an easy to achieve option year was an even bigger mistake.
He was not just a disappointing player, he was a soul-crushing acquisition.  Every clubhouse has some assholes in it.  In fact, some would argue you need an asshole or two to keep everybody on edge.  But there's a difference between being an asshole and being a sociopath, and there's no question that Bradley was the latter, as well as the former.
It was evident, even from our comfy environs at home watching the team from a far last season, that Milton was a terrible fit for the Cubs, and Wrigley Field.  He's never done well with expectations, doesn't like attention on anyone's terms but his own, and only enhanced his reputation as someone who is upset when he goes 0-4 in a win, and could give a shit about the outcome when he goes 4-5 in a loss.
Not that we saw many of those 4-5′s.
In his first game as a Cub, the legendarily brittle Bradley hurt himself stepping on first base.
In his Wrigley Field debut he pinch hit and was thrown out of the game after taking a strike three on a full count.
He famously forgot how many outs there were in a game against the Twins and threw the ball into the stands before the inning had actually ended.
He lost several fly balls in the sun.
He was sent home early from a game against the White Sox after throwing his 1,245th temper tantrum of the season and his own manager called him a "piece of shit."
He cried the next day when the manager apologized to him.  Lou should apologize to us for apologizing to Milton when what he said wasn't wrong in the first place.
Though he'd never driven in more than 77 runs in a season, the switch hitting Bradley was supposed to be the lefthanded hitting run producer the Cubs had lacked.
He hit .234 with a .764 OPS as a lefty batter.  (Hint, that's bad.)
He hit .118 in April, and .196 in September.
He did hit well in one spot in the order, 2nd, where he posted a .326/.421/.533/.954 in 92 at bats.  But it was hard to commit to him near the top of the order because he seemed to always be battling a knee or leg injury.
For a guy who used to play center field with some real ability, he was a terrible outfielder.  He took terrible routes to balls and often fielded flyballs completely flat footed.
The Cubs biggest fear in signing him was that he would get hurt, as he always has in the past, and they'd have to play long stretches of games without him.
Ironically, the reason his Cubs' career imploded was likely that he never quite got hurt enough to go on the disabled list.  He was always around.
Baseball is not a popularity contest, granted, but when easy-going teammates like Alfonso Soriano and E-ramis Ramirez rip a teammate, you know something is up.
His contract has not yet gotten Hendry fired, but it likely will, because in order to dump Bradley on another team and get some salary relief, the Cubs have acquired an astonishingly bad pitcher.  Carlos Silva at his best was a study in mediocrity, and after signing a ludicrous four-year, $48 million deal before the 2008 season in Seattle he's been even worse than that.
The Cubs best move might simply be to bring Silva to spring training, and if he looks like the same, old, awful Carlos, just release him and be grateful that getting him saved them roughly $6 million over two seasons.
With a little fiscal restraint last year, the Cubs might be sitting in a prime spot to sign a player like Jason Bay to play right field.  Instead, they're likely going to go dumpster diving for Marlon Byrd.  Allow me to let you in on a little secret about Marlon.
He's not very good.
And so it goes.  The bad Bradley contract turns into the bad Silva contract, which probably leads to settling for overpaying on a guy like Marlon Byrd.  When Jim Hendry is cleaning his office out after next season, he'll have plenty of mistakes to look back on, but none more costly than the decision to double the money and add a third year to the best offer Bradley supposedly got last year.
You just wonder if Seattke has any idea what they're getting into.  Though maybe in a smaller market, on a team with a DH spot for him to share with Junior Griffey, Milton will go a few months before he goes batshit crazy? And maybe, because the Mariners had resigned themselves to having to eat Silva's contract, they will just waive Milton when he acts up?
At this point, it's about the only way to actually deal with him.
In an ideal world, the Cubs would have brought Milton back and let him bat second, where his ability to get on base (since he hits with little power and can no longer run, it's pretty much his lone asset now), but there's a problem with that.  You'd have to have this horse's ass on your team.
So he's not the Cubs problem any longer.
Not that they have any shortage of problems.