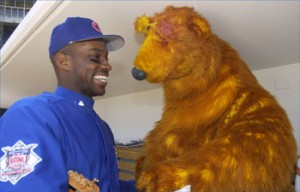 Our look back at the fourth bestest decade in Cubs history continues with the yin, the yang and the up your yingyang of the seasons when the Cubs at least sort of contended.
Those would be the 2001, 2003, 2004, 2007, 2008 and 2009 Cubs.
Each season included a win that made you believe that "it" was gonna happen, and a loss that made you realize that you'd be grabbing your ankles and hoping it would end soon enough.
In at least one case I tried to avoid the most obvious "killer" and managed to find one that foreshadowed the whole goddamned thing.
Today we start with the unlikely contenders, Don Baylor's scrappy (and crappy) 2001 Cubs.
Thriller — July 27, Cubs 4 Cardinals 3
The Cubs entered the Friday afternoon game with the Cardinals, 17 games over .500 and three games up on Houston for first place in the NL Central.  The Cardinals were 7.5 out and pretty much needed a sweep to convince themselves they were even in a pennant race.
The Cubs and us dopey fans had been preoccupied for weeks with the ongoing soap opera that made up the Fred McGriff hostage crisis.  The Cubs and Devil Rays had come to terms on a trade but Fred had a no-trade clause and couldn't make up his mind about whether he wanted to play for the 59-42 Cubs, or the 33-69 Devil Rays.  I'm sure it had a lot to do with his deep affection for his manager, Larry Rothschild.
How the Cubs had gone 59-42 is still a mystery, considering that other than Sammy Sosa at the absolute height of his steroid-fueled greatness, their lineup was terrible, and their pitching, beyond Jon Lieber was abysmal with only Kerry Wood (up to his "I'm hurt!"  "No, I'm not!"  "Yup, I'm hurt" act) striking fear in the opponents.
Jason Bere was 11-11, Crazy Julian Tavarez won 10 games and Kevin Tapani lost 14.  The bullpen was built around the genius of Todd Van Poppel, a good year out of The Farns, 27 saves out of Tom Gordon and a dozen saves out of The Troll, Jeff Fassero.  The Run Fairy, Felix Heredia was still around and that 1998 deadline trade was still paying off handsomely, as he posted a 6.17 ERA in 48 games.
But the Cubs were winning and looking strong as July roared on.  OK, they were at least looking competent.
On this day, however, things looked bleak.
The Cardinals got a run in the first on a Placido Polanco home run off of Bere.
The Cubs answered in the bottom with a homer of their own, when Delino DeShields hit one off of noted dope smoking dead man, Daryl Kile.
But Bere gave up a leadoff homer to Lassie Edmonds in the second, and pre-concussed Mike Matheny knocked Edgar Renteria in with a groundout.  3-1 Cardinals.
It stayed that way until the bottom of the fourth when newly acquired Michael Tucker and his weird bug eyes reached on an error by the increasingly immobile Mark McGwire. One batter later, Ron Coomer (I told you this team was full of bums) doubled to score Tucker and make it 3-2 St. Louis.
Things got dicey in the top of the sixth.  Bere allowed a leadoff double to Fernando Vina and then walked Polanco.  Two on, nobody out and Bere was going to have to face some rookie named Albert Pujols and McGwire.  Gulp.
He struck out Pujols.  Wrigley got excited.
He struck out McGwire.  Wrigley went nuts.
Then Don Baylor walked out to take Bere out of the game.  When the fans saw only Heredia warming up in the bullpen they began to contemplate suicide.
Heredia was brought in to face Lassie.  On a 1-1 pitch, Lassie took a mighty hack…and grounded feebly to DeShields to end the inning.
Phew!
Momentum had shifted.  Wrigley was alive and so were the Cubs.  Matt Stairs singled to lead off the bottom of the sixth. Tucker lined to Vina for the first out.
The Genius sent Kile to the clubhouse for a toke and a shower, and brought in the immortal Gene Stechschulte to face Ricky Gutierrez.
Ricky grounded to first, advancing the "speedy" Stairs to second.  That brought up the doubles machine, Ron Coomer.
And Coomer delivered, doubling to left, scoring Stairs and tying the game at three.
Robert Machado failed to score Coomer from second and so the inning ended 3-3.
Baylor realized he was lucky to get one out of Heredia and didn't push it, bringing in The Farns to have a 1-2-3 seventh.
Miguel Cairo failed with Sosa and Young on base with two outs in the bottom of the seventh–no wonder Ed Lynch cut his ass.
The Troll came in to pitch the eighth and will wonders never cease, he retired Bobby Bonilla, Vina and Polanco 1-2-3.  The vaunted Cubs bullpen had faced seven batters and retired them all.
Jason Christiansen was in his second inning of work when the menacing bug eyes of Tucker glared back at him as the first batter in the eighth inning.
About this time, Pat Hughes started to read a Square D fax from the beautiful Sharon Panozzo announcing that Fred McGriff had finally agreed to be traded to the Cubs.
Tucker took the first pitch of the inning deep.  The Cubs led 4-3!
McGriff was coming!
Nobody can stop us now!
Flash came in to pitch the ninth with a one run lead.  He would face Pujols, McGwire and Lassie.
He got Pujols to ground to Gutierrez and then struck out both McGwire and Lassie.  Cubs win!  The bullpen retired all ten batters they faced.  The Cubs led the Central by 3.5 games over Houston, 8.5 over St. Louis.  Reinforcements were on the way.  Life was good!
Killers — August 2, San Diego 4 Cubs 3
Fate is a fickle bitch.  The good times of 2001 lasted one rotation turn.  The next time Bere took the mound was a Thursday afternoon game in San Diego against the mediocre (52-55) Padres.  The Cubs still led the Astros by 3.5.  The Cardinals were 7.5 out.
Bere was on fire.
He retired 10 of the first 11 men he faced.  After seven innings he had struck out 12, walked only two and allowed only three hits.  He had thrown 102 pitches.  Hell, if Dusty were managing this team he'd figure Bere had seven more good innings in him today.
The Cubs had taken a 2-0 lead in the sixth on a homer by Fred McGriff (he's awesome!) with DeShields on base.
As Bere sat in the dugout after pitching a scoreless seventh, McGriff stretched the lead to 3-0 when he singled in Sosa.
Maybe Baylor was thinking about the last Bere start when his awesome bullpen (cough, cough, gag, cough) retired all 10 men they faced.
Maybe he realized he had a rag armed righty who had thrown 102 pitches.
Maybe the fact that Bere had allowed a single to the legendary Bubba Trammell in the seventh made Don figure he was running out of gas.
Whatever it was, he brought the Troll in to face the juggernaut of D'Angelo Jiminez, Chuck McElroy and Rickey Henderson.
Jiminez singled on Fassero's first pitch.  Oops.
Alex Arias pinch hit for McElroy and singled to center moving Jiminez to second.  Double oops.
But then Fassero rallied to strike out the future Hall of Famer.  OK, get a double play and let's go back to the dougout, eh Jeffy?
Fassero walked Mark Kotsay on five pitches to load the bases.
Sphincters tightened all over Illinois, Iowa and a dugout in Southern California.
Fassero got ahead of Ryan Klesko 1-2.  Plenty of pitches to work with now.  Klesko was having a good year.  The Padres had yet to move into Petco Park (where his power disappeared).  He was an All-Star.  He would finish the season with 30 homers, 113 RBI and an OPS of .923.
And…guh.
He hit Fassero's 1-2 pitch so hard that it actually woke Jerry Coleman up in the radio booth.  It might still be going.  From a 3-0 Cubs lead to a 4-3 Padres lead in one grand slam swing.  Trevor Hoffman hopped up in the bullpen and started throwing.  The PA cued up his song.  And Baylor had to walk to the mound and try not to punch Fassero in the face.
The Farns came in and retired Phil Nevin and Trammell.
Hell's Bells blared as Hoffman strolled in to finish it.
He quickly dispatched Gutierrez and Coomer, but Stairs walked.  Hey, a glimmer of hope.
Baylor sent up a pinch hitter, one with home run power.  They could still win this thing!
Oh, wait, it was Todd Hundley.  He struck out swinging.  Cubs lose.  Cubs lose.
It was a loss so stunning, so gut-wrenching that the team never recovered from it.
They were 61-45 coming in and they would go 27-32 the rest of the way.  Not terrible, but Houston went 34-20 and the Cardinals went 39-17 and both passed the Cubs who won 88 games and finished FIVE games out of a playoff spot.
Things were so bad that when baseball suspended play on September 11, grasping to find anything positive to cling to in those immediate days after, I wondered if the only good thing that could ever come out of those horrific events was a reset on the playoff race for the Cubs.  Nope.
In retrospect, it's amazing that this bunch won 88 games to begin with.