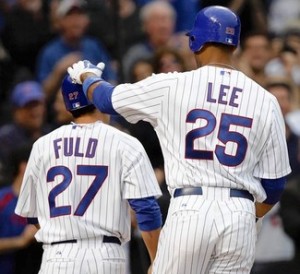 In less than a month the Cubs will commune in the desert to prepare for the 2010 season. I'm not sure if you've heard but it apparently has been 102 years now since they last won the World Series. Who knew? Somebody should make a big deal out of this. It seems like kind of a long time.
But hey, this is the renaissance of Cubs baseball. Since Lou Piniella arrived for the 2007 season the Cubs have finished first in the biggest (and worst) division in baseball, twice, and they finished second last year. When you factor in the fact that they have now had three consecutive winning seasons for the first time in 40 years…ugh, wow this is bad. Why do we root for them again?
You know what, let's cut all the bullshit that you normally get when anybody writes a stupid spring training preview.
Let's just take a look at the facts.
The Cubs have new ownership and fans are upset that they haven't "done anything" yet. What exactly there has been to do this offseason other than stare at the payroll they inherited and cry, I'm not sure. Hey, they could have given Randy Wolf and LaTroy Hawkins $20 million. Or they could have signed Matt Holiday to a Soriano-esque contract and prayed that nobody develops a test for HGH.
Some Cubs fans (not you of course–cough, cough) spent a lot of time this worrying about where the Cubs were going to have spring training beyond 2010. Now I can understand it if you live in Arizona and think it would suck if they moved away from you, or if you live in Florida and think it would be groovy if they moved to your state. But if you don't live in either place, why the hell would you possibly care? What, planes don't go both places? Both places don't have overpriced hotel chains and crappy rental cars? And you do realize you're going down there to watch practice? Not just practice, but practice baseball, which is basically just a chance to get a sunburn and take blurry pictures of Jeff Samardzija scratching his balls. (Which he'll probably be doing for the Gary Steelheads in 2012, anyway.) There was even one bald dope (who looks like Brad Childress' grandpa) who railed against the idea of the Cubs moving their spring training operation to Florida. He had three points he felt were iron clad in favor of Arizona. 1) The teams that train in the Arizona cat box are located close together, it makes travel time less and it cuts down on those long bus rides. (I asked Ed Hartig and he says that approximately 12 major leaguers die every spring due to excessive bus rides–and chlamydia). 2) It never rains in Arizona (cue Albert Hammond). 3) It's tradition that the Cubs train in Arizona. Tradition is important…because…let's see, because it's the absence of change! Come on, 16 of the last World Series winners trained in Florida. It obviously doesn't harm your chances of winning. Also, it is notoriously difficult to evaluate pitchers in Arizona because everybody (and I mean everybody–even Gary Scott) can hit in Arizona. Altitude, thin air, rock hard infields and your breaking pitches don't work. And finally, shove your traditions up your ass. This franchise hasn't won in 100 years, it's time to put all of the traditions into a festering pile and burn them. That said, I think it's impressive that the Rickettses were willing to play hardball on this. They got the promise of brand new $80 million facility they don't have to pay a dime for, and all because they let the people of Naples, Florida take them out to the Red Lobster a few times.
The current payroll is going to be north of $140 million once they sign their three remaining arbitration eligible players (that entails paying Carlos Marmol and Sean Marshall what they are worth and taking a big pile of money and setting it on fire–I mean paying Ryan Theriot). That's bad because it's at the limit of what the owners want to spend, and the roster has too many holes in it.
The Cubs most expensive (and best) offensive players are in the infield and outfield corners. Not that there's much wrong with that. E-ramis Ramirez is their best player, Derrek Lee is their second best player and their corner outfielders are…expensive. Alfonso Soriano has been good, not great since they decided to pay him like a great player. Last year was a waste. He got off to a good start, he hurt his knee, he played like crap for a long time, and they finally shut him down and got his knee fixed. He's at an age where he's not going to get better, he's going to get worse. But hey, they're only paying him for FIVE more years. (Sob.) Kosuke Fukudome is a nice player. He plays good defense in right and center, he handles righthanded pitching fairly well (.372 OBA and .789 OPS), but he makes way too much money ($12 million per) to be what he is, a platoon player.
They are weak up the middle, offensively and defensively, and that's really not good. It's not that they haven't tried to fix it. They are paying heavy-legged Marlon Byrd $15 million to prove he can't play center field every day (and I think he's up to proving just that!), they have a woefully lacking double play combination, no matter if it's Ryan Theriot and Mike Fontegnome or Theriot and Jeff Baker, and their catcher just lost 40 pounds in his quest to have a three year run where he goes from young Mike Piazza (2008) to old Hector Villanueva (2009) to current Jason Kendall. Awesome.
So what's my deal with Theriot you ask? I seem to be awfully hard on a scrappy little guy who saved the Cubs bacon in 2007 when they didn't have a shortstop. Part of why I'm hard on him isn't his fault. He's not a shortstop. Dusty Baker wasn't right about much, but he was right that Theriot wasn't the answer at short unless the question was (who here can't play it?) Dusty's refusal to play Theriot at second base in 2006 until Neifi was sent packing was dumbfounding, but I don't blame the guy for not looking at Theriot and seeing Barry Larkin (or Barry Foote for that matter). When Theriot did a passable job at the position in 2007, the Cubs refusal to consider an upgrade that offseason was a good look at what's wrong with the Jim Hendry leadership of this franchise. Going back well beyond his tenure as GM, Hendry was the director of player development. Under his watch since 1995 (fifteen glorious years) the Cubs farm system (his main responsibility in both jobs) has produced the following quality, everyday players for the Cubs — uhh….ummm…oooh, there was…no, wait… Theriot and Soto are the best players they have produced in 15 years. A glorified utility infielder and a formerly portly catcher who spent three years in AAA when he was blocked by nobody. Now both have had one good season (Soto's better than Theriot's), but if this is the cream of the crop, you have suffered complete crop failure. So why is Ryan Theriot still the starting shortstop, even though he cannot handle that position defensively? Because he's still their best option (since they refuse to actually find another option), and unless Starlin Castro is every bit as good as those so-called minor league experts assure us he is, it's going to remain as good as it gets. Blecch.
As bad as the middle of the diamond is, the bench isn't any great shakes. If the Cubs would go out and get a second baseman (or a shortstop and move Theriot to second…or to another team), then the bench would be greatly improved by the presence of Jeff Baker. Baker's been a solid player the past three years and can play second, third, right and left. He's basically a younger Mark DeRosa without the beautiful stubble. But if Baker is playing second base out of necessity it hurts his value (he's more valuable because of his versatility than his overall outstanding-ness) and it weakens the bench. Koyie Dolan Hill is an awesome story of perseverance and outright ballsiness, and he's an adequate backup catcher, but he can't hit. And so that leaves what on the bench? Fontenot, if Baker is starting? Sam Fuld? I like Andy White as much as the next guy, but bringing him up to pinch hit late in the game is about as imposing as the time Dusty played the Goodwin, Macias, Darren Baker outfield in 2005. (How old was Darren in 2005? Seven? That actually might have been better than Jeromy Burnitz out there.) The Cubs are so thrilled with Micah Hoffpauir that they signed something named Bryan LeHair to a minor league contract and they're trying to sign the rotting corpse of Jermaine Died or the heavy legged Johnny Gomes to take his spot. I honestly thought that news that the Cubs were hiring a cook for the team meant they were bringing Daryle Ward back. Who wouldn't want to see him lumber to the on deck circle one more time, dramatically bang his bat on the ground to knock the donut off and then eat the donut? We all miss that, don't we?
The starting pitching would look a lot better if Theodore Roosevelt Lilly was going to be healthy to start the season. After cutting open his shoulder and screaming at his labrum to behave in the offseason, I'm sure Ted will be fine, eventually. I really want Carlos Zambrano to have a great year to shut up the dumbshits who think he's been underachieving all these years. Because it's all crap. If I had a dollar for every time somebody covering (or worse, working for) the Cubs said, "Will this be the year he gets it all together?" I'd have like 40 dollars. When will he finally put it all together? You mean when he won 18 games in 2007 that didn't count? Or when he led the league with 16 wins in 2006, or when he won 14 of his 20 decisions way back in 2008? Or when he last posted an ERA over 4.00 which was 2001? But no, he's not an ace. Just because his Baseball Reference similarity scores include hacks like Josh Beckett, Chris Carpenter and John Lackey. Why is it that everyone bitches about how much Carlos makes in regard to his production, when Ryan Dempster also has a big, fat contract and is older, has already had Tommy John Disease and isn't as good? Maybe Carlos should learn some magic tricks, or how to do a completely shit impersonation of Will Ferrell doing a shitty Harry Carry impression? It's hard to figure out just how good Randy Wells will be in his first full season in the big leagues, and medicore Cubs prospects have come up and had a good rookie season (Jeff Pico and Shawn Boskie–both to some degree at least) and disappeared, but Wells at least did it for 27 starts. The rest of the flotsam that are battling to grab a spot in the rotation all come with flags of some shade of red. Tom Gorzelanny was underwhelming after a promising start to the Cubs portion of his 2009 season and his ERA as a starter (5.40) and a reliever (5.87) sucked equally hard. Sean Marshall wants to start. Hell, every middle reliever wants to start, but he was better (3.23 ERA and .709 OPS against) as a reliever than as a starter (5.24 ERA and .829 OPS against) last year. Then, there's the lovely and talented poofy haired Jeff Samardzija. He had a misleadingly good 2.28 ERA in 2008 in 26 relief appearances, and a not misleadingly terrible 7.53 ERA in 20 games last year. I believe there's talent there, and that eventually he'll be a good pitcher. But I'm dubious of whether he'll ever be a good starting pitcher, and even though it feels like he's been around forever, he's still only got 400 professional innings under his belt. Combine that with the fact he pitched at a cold weather university (Notre Dame) and apparently had something better to do in the fall than play baseball so that even further limited the amount he pitched. The honest fact is that because the Cubs paid him a crapload of money to give up football, they've tried to rush him through the system to justify it. More Cubs idiocy on display.
Bullpens have never been Hendry's specialty. Even now that he has a manager with a clue as to how to run one. The Cubs enter the season with the filthiest closer around, and no idea of whether or not he'll be able to do the job. It is counter intuitive to believe that Carlos Marmol will be better and pitch with more control in the most leveraged inning in the game (the last one) than he was when he pitched the seventh or eighth. But that's exactly what Marmol was last year. As a set-up man trying to earn the closer job he was visibly talented, often overwhelming hitters, but so inconsistent that the best plan of attack against him was to stand there and wait for him to hit you or throw the fourth ball. Only because Kevin Gregg was consistently crapping his pants in the ninth, did Marmol get a shot at closing, and it was like a switch came on. He finished the season with 11 saves in 11 changes. His walks went down, he hit fewer hitters, and frankly, instead of throwing balls he was the balls. But the problem is that there's no guarantee that the Marmol of April-July isn't the Marmol we'll get this year instead of the one in August and September. You feel good that you are counting on your most talented reliever to do the hardest job, but you still have to fear this whole thing will blow up and we'll be left with two enormous ears and a blown out elbow in a pile on the mound some afternoon. There is talent in that bullpen, no doubt. Esmailin Caridad was part of the reason Marmol could go close, because he slipped right into Marmol's old role as set up man. The Cubs have high hopes for all three guys they got for the Fabulous Mark DeRosa, and two of them (Dave Stevens and Justin Berg) (Whoops, I "Mauded" poor Jeff Stevens there) pitched in the Cubs bullpen last year (and Berg was impressive allowing only one run and one walk against seven K's in 12 innings with a 0.75 ERA) and the other guy, John Gaub is supposed to be the best of the three. Angel Guzman will be around against this year until his elbow falls off again. John Grabow will get good money to be positively average. And yet, Hendry is hell bent on spending even more money on a reliever. Last we heard he was after Kiko Calero. Calero is a sore-armed righthander who had a really good year in Florida last year. But he's 35, and if you want another Chad Fox, why not just bring Chad back to suffer his fourth career-ending injury as a Cub?
The question, as the Cubs careen towards spring training is how many teams other than the Cardinals have surged past them in the Central? It could be two, but it's probably none. Milwaukee did much better with their cheaper, under the radar signing of Doug Davis this week than the absurd three year deal they gave Randy Wolf. And, they actually thought adding LaTroy Hawkins to their bullpen was a good idea. Cincinnati? We don't have to worry about them until Dusty leaves. So it'll be the Cubs and Cardinals again this year. Is it wrong to happily wait for Chris Carpenter's next arm injury? Of course it isn't. And aside from having the best player in the game, and Matt Holliday, if the Cubs stay healthy this year, they have a better offense top to bottom than the Cardinals do, and even if they have to wait longer than expected for the return of Theodore, the Cubs pitching is at least as good.
So they'll suck us back in again, and by opening day we'll convince ourselves that it's the Cubs to lose.
And then they will.