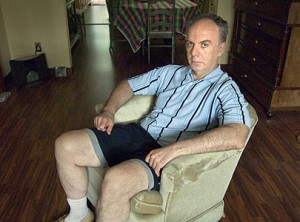 Dear people of the Internet,
I'm Andy's Uncle Marty and after arguing with him on the telephone last night for a good ten minutes about the merits of Cubs shortstop Ryan Theriot, he called me a smart guy and dared me to write down some of my thoughts on the matter, and he said he would publish them for all six of you who actually read this pointless crap to see.
Because most of you yuppies would rather drive a Toyota that will likely accelerate against your wishes and cause you to end up driving through the plate glass windows in the front of a Walgreens instead of buying a quality automobile like a Jeep Patriot or a Dodge Caliber, I am currently not working.  So I have plenty of time to do three things.
1. Think about all of the ways the Chicago Cubs can try to not suck this year.
2. Kick ass.
3. Chew bubblegum.
I am all out of bubblegum.  So what's it going to be?
Andy thinks it is funny to make fun of Ryan Theriot and his abilities at shortstop.  Well, I've got news for him and any of you slapdicks out there who yuk it up along with him.
Go screw.
Ryan Theriot is a fine baseball player.  He's a scrappy little guy who tries hard, does his best and never complains about anything.  He reminds me of me.
You know who doesn't remind me of me?  The guys you derelicts seem to think are so great.
Do you ever see Ryan Theriot jumping into the air to catch a routine fly ball?  No.
Do you ever see Ryan Theriot forget how many outs there are and throw a baseball into the stands while the inning is still going on?  No.
Have you ever heard about him running a cockfighting ring in his back yard?  No.
Has Ryan Theriot ever broken his foot because he's too uncoordinated to jump over a three foot dugout railing?  No.
Do you ever see Ryan Theriot punching out his catcher, taking a baseball bat to a soda vending machine in the dugout or any of that other hairy highschool crap that Carlos Zambrano does?  No.
Ryan Theriot just plays the game hard, and plays it right.  Did you know he played in college with seven other current Major League Baseball players?  Of course you didn't know that.  All you know is that Xavier Nady is cool because he has an X in his name.  So did Xavier Cugat and that didn't make him cool, it made him a communist.
Ryan Theriot's a winner, that's what he is.  He wasn't the best of those Louisiana State University Tigers that won a national championship, but he was their shortstop and he was their leader.  He's got enough brains to know that you don't put your sunglasses on your hat if you want to actually catch a pop-up in the sun.
And so why don't you guys like him?
"Because he doesn't get on base enough.  He doesn't hit for power.  And he gets picked off ALL THE TIME."
Where I come from we have a term for those sorts of conclusions.  We call them absolute horseshit.
I don't need to go down to Kroch's and Brentano's and buy a Baseball Almanac to tell you that Ryan Theriot does a better job of getting on base than most of his teammates.  And he doesn't hit a lot of homers, but now that baseball players have stopped sticking needles in their butt cheeks that's not as important.
He's no worse a baserunner than any of the other good Cubs like Derrek Lee or Aramis Ramirez.
And you guys don't think he deserves the three million dollars he's asking for?  Here's a guy who played shortstop on back to back division winning teams, and made $400,000 those years.  I know that's a lot of money to you and me, but Derek Jeter makes forty times that.  Forty!  Is he forty times the player Ryan Theriot is?  I don't think so.
I've been in an arbitration hearing, and I know how ugly it can get in there.  All I was trying to do was get rid of a wife.  This guy is trying to get $800,000 from a billion dollar company who's been screwing him over for three years.
So in summary, Theriot's pretty good!
Buy American.
Uncle Marty