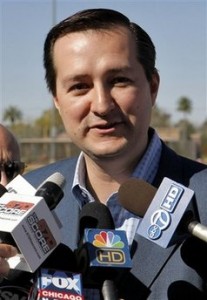 Yesterday, Cubs owner (well, one of the owners), Tom Ricketts gave the first preseason address from an owner to his Cubs team since back in 1964 when PK Wrigley asked a room full of players, "You want any gum?"
The media were not allowed in the room to hear what Tom told the team.  But then we're not the media, and we have our sources.
So what follows is an official transcript of Tom Ricketts speech to his new team.
First off, guys, I want to say what a privilege it is to be here today to talk to a room full of employees that I inherited when I bought your company last year.
It's an honor. I've been a fan of the Chicago Cubs much of my life.  Then again, I used to watch the A-Team a lot, and it's not like I didn't know that sucked, too.
I just want you all to know that I consider us all to be one big happy family now.  You–the players, the coaches, the front office staff, and all of the gameday staff.  If you haven't met my real family, three of them are here today.  That's my brother Pete over there.  Pete, wave at the guys.  Next to him is my sister Laura.  Isn't she pretty?  She's not into any of you, if you know what I mean, though she once dated a lady who looks a lot like Jeff Samardzija.  And the guy over there sitting…in the garbage can…is my brother Todd.  Todd, get out of the garbage can.  Todd's adopted.  Or from another planet.  Oh, for christ's sake…
And you are our new family, too, and we're glad to have most of you.  At least until the guaranteed portion of your contracts expire between now and…where is….oh, there's Alfonso…2014.
Like any family, there's a hierarchy.  A pecking order if you will.
Here's how things will work.  My door is always open.  I'm a very accessible guy.  But I'm not going to tell you where that door is.  It's not at Wrigley Field, I'll tell you that.
But if you have any complaints, you all know where Crane Kenney's office is.  Go talk to him.  In fact, Todd is going to hand out a sheet that has a Google Maps route to Crane's house in case you need it.  Todd.  Todd!  Hand out the maps, please.
Sorry about him, he was born with the umbilical cord around his neck, and the sad thing is that it wasn't even his umbilical cord.
You may have heard about all of the improvements we've made at Wrigley Field this offseason.  Some of them are ongoing, and by the time we get there in April, you are going to be very impressed with some of the changes.  For one thing, we were shocked at the size of the home clubhouse at Wrigley.  You guys will have a lot more room to get dressed, hang out and then towel off after you shower.  Our risk management people think that the new layout will cut down our claims of accidental sexual assault by nearly 40 percent.  Keep your fingers crossed!  And maybe your legs!  Right?  Oh, never mind.
The newer, bigger clubhouse means that we will no longer have to enforce the average height rule we had the last few seasons.  If you're not familiar with that rule, it was one the club had with space in mind.  For every player on the roster over 6'2 we had to have a player under 5'5.  Where are Mike and Ryan?  Are they over…oh, there they are.  Yeah, this is bad news for you guys.
I would be remiss if I didn't talk to you guys about Jim Hendry.  So, I'm going to be remiss.
And about Crane, I know a lot of you guys don't like him.  You think he's arrogant.  For lack of a better word you think he's an entitled prick who somehow went from being a douchey accountant to the president of a baseball team.  I know you don't like that he strolls through the clubhouse acting like he belongs there.  I would tell you that you were wrong, but you're not.
So why does he still work for us?  Well, the Tribune extended his contract just before the sale was completed, so we have to pay him no matter what.  So I decided he might as well stick around for a while.  I just make him do all of the stuff we don't want to.  Like deal with the Hohokams, and Ronnie Woo Woo, and talk to Jim Hendry.
One of the most exciting things this spring is that we have brought in a four-time Cy Young Award winner to help you guys out.  Where is Greg?  There he is, in the back there.  Greg Maddux everybody, give him a hand!  He's going to be helping out, working with the pitchers, taking lots of Ryne Sandberg's money on the golf course and given the state of our pitching right now, he'll probably end up starting the home opener for us.  I'm kidding!  You guys are great.
And our manager is here.  Lou Piniella.  The man is a legend, and he has the second highest winning percentage of any Cubs manager since World War I.  That's impressive.  Well, actually it's kind of depressing, considering the team won 85 and 83 games in two of those three seasons.
But I want to leave you with some thoughts about tradition.  The Cubs have been playing baseball since 1876.  That's a very long time.  And the franchise has a great history.  Two world championships, 12 pennants, and 18 playoff appearances.  We've had dozens of Hall of Fame players.  We play in a stadium that is the envy of baseball.  It's a beautiful park, in a beautiful neighborhood in the best city in the world.  And, we added some toilets, so it's not just a great park, it's a great place to take a dump now, too.
I'm going to do something that's a little lame, and trite.  I'm going to read you the definition of the word tradition.
Two entries in particular.  The first, tradition is a custom, a specific practice of long standing.
The Cubs have a long tradition in that sense, indeed.
The other entry, tradition is an inherited practice of thought or action.
The Cubs have a long tradition in that sense, too.
Our tradition is that we suck.  Our tradition is that we are embarrassingly terrible at playing baseball.  Our tradition is that we're inept, bereft of meaningful accomplishment, and that the one thing we do with great consistency is fail.
I don't know about you guys, but I think it's time we take a good, hard, long look at our tradition, and tell it to fuck off.
It's going to be a long process, and when it's complete, and this franchise is no longer world famous for being an embarrassment, most–if not all–of you will be long gone.
So have a great year!