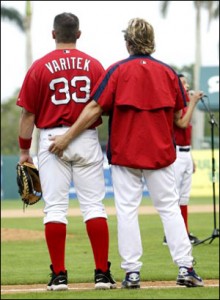 With the Cubs decision to keep Tyler Colvin on the big league roster, it's now official.  There's one roster spot left and it's going to go to either Kevin Millar, Chad Tracy, Micah Hoffpauir or Sam Fuld.
First off, it's not going to Hoffpauir, and no matter how much blood Sam Fuld paints over his door tomorrow night, he's getting passed over.  (In a bad way, oh, just go with it…)
So it's Kevin Millar or Chad Tracy.  As Dave Kaplan so eloquently put on his now-defunct radio show last Monday night, "Who cares?  It's the 25th spot on the roster."
We care Dave.  Cubs fans care.  We care about that and about keeping our pretty little antiquated ballpark free from jumbotrons, advertisements, rock music and the World Series.
Huh?  Never mind.
The 25th spot on the roster, is, of course important, because that guy is going to play, and it would be nice if he didn't completely suck.  This isn't like the 117th guy on a college football home team roster.  You only get 25 guys in baseball, and you end up having to use all them.
Now here's the biggest problem I have with the choice between Millar and Tracy.  I think the choice is obvious.  In fact, I can't believe that a team that really wants to pretend they have a chance to contend this year would even have to think twice about which guy to keep.
I also think that Chad Tracy kind of sucks.  So just how bad does that make the other guy?
But when you break it down, it's not all that hard to figure out which guy to keep.
Tracy is 30.  Millar is 38.
Tracy bats lefthanded.  Millar bats righthanded.
Tracy can play 1B, 3B, RF and LF.
Millar can play 1B.  He has stood next to 3B 32 times in his 12 year big league career.
Tracy is a career .280 hitter with a .792 OPS.  Millar is a career .274 hitter with an .810 OPS.
As a pinch hitter, Tracy is a .302 hitter with a .384 on base average, .581 slugging average and a .965 OPS.
As a pinch hitter, Millar is a .198 hitter with a .309 on base average, .294 slugging average and a .602 OPS.
OK, to be fair, Millar has spent the last seven years in the American League, so let's look at his DH numbers, because that's like pinch hitting four times in a game.
As a DH, Millar is .217 hitter with a .326 on base average, .374 slugging average and a .700 OPS.
According to Baseball-Reference's similarity scores, Tracy's most comparable hitter is some guy named Xavier Nady.  Marlon Byrd and Walt "Moose" Moyrn are also on his list.
According to Baseball-Reference, Millar's most comparable hitters include: Jock Jones, Carl Everett and Oscar Gamble.  I'm not even making this up.
Millar is the nephew of former Cub and White Sox outfielder Wayne Nordhagen and he led the American League in being hit by a pitch with 17 in 2004.
OK, so to sum it up.  Tracy's younger, he is a needed lefthanded bat on the bench, he has a better career average than Millar, he's an excellent pinch hitter, he plays more positions, and his comparable players do not include a rightfielder who throws the ball straight into the ground or a guy who says dinosaurs do not exist because they weren't mentioned in the bible.
Millar has a slightly higher career OPS, and Wayne Nordhagen bought him a birthday present when he was a kid.
Oh, and he's supposedly REALLY funny.  But not really funny, Ryan Dempster-jokes-so-obvious-you-want-to-kill-yourself-instead-of-listening-to-them-again funny.
So why is it so obvious that the Cubs are going to keep the older, worse, less useful player?
Because they're the Cubs.
Oh, and I would argue that Colvin has no place on this team, either.  Sure he's leading the Cacti League in hitting, but it's clearly a mirage.  What's the red flag for a guy hitting .468 with a 1.178 OPS in 62 at bats?  I mean that's pretty awesome hitting, right?
Colvin's biggest problem in his minor league career has been his inability to get on base.  He has a career .320 on base average (Corey Patterson-esque) in the minors.  And the less than mediocre .334 on base average he put up in his 84 games at AA Tennessee Last night was the second highest (by two points) of his career.
This spring?  62 at bats, 12 K's, ZERO walks.
Enjoy your month in the bigs Tyler, but you'll be bunking with Micah and Sam in Des Moines soon enough.