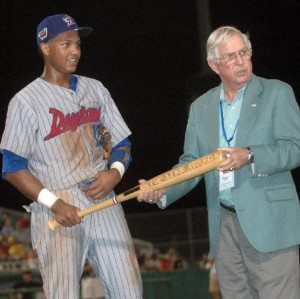 By now the world knows (maybe even Ron Santo) that the Cubs have called up their top prospect, Starlin Castro.  Castro will start at shortstop tonight in Cincinnati, moving Ryan Theriot 90 feet closer to the dugout.
Not like the kid earned it or anything.  After playing well enough in his first big league spring training to make the team, Castro obviously pouted at AA Tennessee.  All he did there was hit .376/.421/.569/.990 with only nine walks in 109 at bats.  But did I mention he only struck out 11 times?  Fourteen of his 41 hits were for extra bases and he drove in 20 runs in his first month above class A, ever.
A .990 OPS in AA?  You could have sent Theriot there now and he couldn't do that.
Chad Tracy will not be released as I twatted incorrectly, earlier today.  He has an option left, so the poor bastard has to go to Iowa.  It's curious that the guy to leave was Tracy and not the fart ignitor himself, Jeff Baker. But Baker has no options left.
You always can tell a man with no options.  He's the one waving a lighter near his naked bunghole.
What's more curious, though, is that since everyone in baseball knew this day was coming earlier, rather than later, why the hell didn't Theriot play any second base during the spring?
Theriot's defense has been lousier than usual this year, and it showed up big in Tuesday night's loss in Pissburgh, when he kicked a pair of chances that a big-boy shortstop would make and one led directly to two runs in the 3-2 loss.
And, because his offense this year is like every party that you went to in college (all singles, no scoring), it would make more sense for Theriot to platoon at second with Mikey Fontenot than just take the job.  True, Theriot leads the league in hits with 42.  It would be nice if more than five of them had been for more than one base.  I'm also not sure that his weenie arm–which certainly doesn't play at short–really plays at second.
Regardless, this move won't fix the fact that everybody in the lineup is hitting except the two best players, but it will certainly help that shitty defense.
So it's nice to have Starlin around.  Let's hope he sticks for a decade or so.