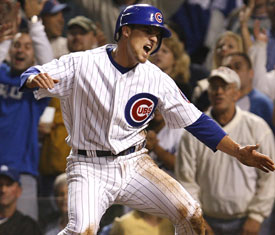 I have one of those lame Cubs fact a day calendars on my desk and every morning, I tear off another day, I read the fact or the trivia question and then I unsuccessfully try to slit my wrists with the little piece of paper I've torn off.  Today, the trivia answer was Claude Passeau, and the question, apparently was "Who pitched the last time the Cubs didn't suck?"
It's July 12.  The Cubs are in fourth place.  There is a little hope they might finish third (not that it matters) and no hope, at all, that they'll finish first or even second.  This, despite the fact that the teams currently in first and second both suck.  That's how bad things are.
But, the Cubs, for the first time since the waning days of the Claude Passeau era, look poised to try to dump some of these losers onto other teams so that they can bring in a whole new crop of losers to take their place.  In the land of the Cubs, this is considered progress.
So let's look at who should be traded, where they might go, and who the Cubs can replace them with.
Hey, nobody said this would be fun.
Actually, let's do this.  Let's divide the list into who WILL be traded, who COULD be traded, and who SHOULD be traded.  I would have made that the headline of this article, but I don't want to steal the schtick of the 27 word headline from the guys over at SB Nation.
Who will be traded?
Theodore Roosevelt Lilly – Two starts ago, not only was Ted a sure bet to be dealt, but a sure bet to be dealt and to bring back a nice return.  But apparently he doesn't want to be traded because he's responded by giving up 14 earned runs in his last nine and a third innings over that span.  His ERA has gone from 3.12 to 4.08.  Thanks?
Still, given the paucity of starting pitching on the market, and the fact that Ted is in the final year of his contract, and looks to be a Type A free agent (he was an All-Star last year, you know), the Cubs will have plenty of takers for him, provided his arm doesn't literally fall off between now and the 31st.  The Mets are said to be very interested, as are anybody who just lost out in the Cliff Lee sweepstakes, like the Twins, Tigers, Phillies, and maybe even Ted's old team, the Yankees.
If Ted's traded, it opens a spot in the rotation for Carlos Zambrano to return…what?  Oh, never mind.  It opens a spot for Andrew Cashner to move into the rotation for half a season.
Kosuke Fukudome – The market for 33 year old, Japanese Judy hitters who can do complete 360′s in the batters box on missed swings is huge!  Actually, the Cubs are resigned to eating half of the $14 million Kosuke is owed next season, and that does make him tradeable.  Kosuke's not a bad player.  He's a good on base percentage guy with decent speed, he can play all three outfield spots and though he calls everybody on the team "cocksucker" all the time, nobody knows because he says it with a smile and in Japanese.  Both New York teams have had some interest (mainly because they think it's funny to trade for him and have him point at the skyline and yell "Godzirra!"), and Boston only has one outfielder not currently in a wheelchair.  If you have a stash of those Horry Cow t-shirts, you'd better hurry up and sell them.
A trade of Kosuke opens right field up for Tyler Colvin to play every day, and (cross your fingers!) could lead to Sam Fuld being called back up!
Mike Fontenot – He's the more tradeable of the Cajun connection because he makes $1 million and Ryan Theriot makes $2.6 million.  If you're going to trade for a shitty, dwarf, infielder to sit on the bench, it's better to pay two months of Fontenot's salary than Theriot's.  Oh, and there's always the fact that Fontenot hits the ball out of the infield once and a while.  The Cubs and Red Sox have talked about a deal for Fontenot, and apparently the Phillies have had some interest.  I have no idea why anybody would want him.
If he's traded it could open a spot for Darwin Barney–a  Fontentot/Theriot clone, right down to the 5'2 inch build and the .328 on base average at Iowa.  Yay?
Xavier Nady – He'd be a good fourth outfielder for a contender, especially now that his elbow has been upgraded from shitty to mostly shitty. Boston might have some interest, or a team like the Reds or Mets.
If he's traded the Cubs might bring Brett Jackson up from AA Tennessee.  The kid's got lots of ability and in the Futures Game yesterday showed he's Cub-ready by walking in his second at bat, and then getting picked off first.  Plucky!  We probably won't see Jackson until September, so a more likely call up would be non-prospect Brad Snyder.
Who should be traded?
Derrek Lee – If Derrek's not one of your all-time favorite Cubs, then you're a dick.  He's a good player who had some great years for the Cubs, always showed class, and busted his ass.
That said, I'll go over to his house and help him pack.  He doesn't seem to want to be traded (and he can block any trade the Cubs work out), and his awe-inspiring .695 on base average hasn't exactly made him a hot commodity, but he has to be worth a shot to a team like the Rangers or Angels who need a first baseman and are in the race, right?  Put him in that little bandbox in Arlington in between Vlad Guererro and the pharma-king Josh Hamilton and just let him go, right?  Besides, the Cubs can eat the rest of his salary for the Rangers if it means getting back a good prospect or two, right?
If he's traded it puts the Cubs in the Adam Dunn sweepstakes this offseason.  Dunn is destined to hit 50 homers and strike out 250 times at Wrigley, so why not next year?  Regardless of who the longterm solution is, short term it could mean the return of Micah Hoffpauir!  Oh, feel the excitement!
Carlos Silva – He's been so much better than anticipated it's almost ludicrous, and the Cubs would love to trade him.  Here's the problem.  He's always hurt.  It's his back, or his knee, or his side, or he's got the runs, it always something.  Since he's owed about two more million the rest of this season and $11.5 million next year, no team is willing to take the risk he'll come there, get hurt and nap on their DL.  So the Cubs are stuck with him, and if they can keep him on the mount it's not that bad.
If he were traded it opens another spot in the rotation, this one probably would go to Jay Jackson. He's 5-6 at Iowa with a 3.64 ERA in 14 starts and seven relief appearances.
Ryan Theriot – He's a guy the Cubs are finally (three years too late) open to trading, but who the hell would want him?  He makes too much money, he can't play short or second very well, he's a shitty baserunner, and makes up for a complete lack of power with a lack of ability to take a walk.  All that said, a team like the Rockies might take a flyer on him for the rest of the season, or even the Twins.  My dream?  The White Sox trade for him and play him at second and he kills their playoff chances from within.
If he leaves, Bobby Scales gets to come back.  But the Cubs might be tempted to give Ryan Flaherty a shot.  You know, if they want to reward him for hitting .183 at AA Tennessee.  OK, I guess not.
Carlos Zambrano – In the offseason, some team is going to dump a bad contract on the Cubs and take a shot on Zambrano.  It's going to happen.  But it can't happen before the trading deadline because the Cubs don't even plan on starting Carlos' minor league "rehab" stint until the end of the month.  I know they don't want him around, but wouldn't it have been smart to have tried to sucker a desperate team into him at the deadline?
Who could be traded?
Marlon Byrd – If the Cubs really plan on stripping down to young players in the offseason, they should trade Marlon to a contender this month.  He's got value, his salary actually goes down each of the next two seasons, and his trade value has to be the highest it will ever be while he's a Cub.  Plus, as good as he's been, nobody buys a ticket to watch him play, so what harm would it do the attendance?
In reality, Jim Hendry wants reminders of good moves around as long as possible, so no way will Marlon get traded.
E-ramis Ramirez – The Cubs would have to convince him to waive his no-trade, and he would probably have to convince whatever team he's traded to that he would not exercise his player option for $14.5 million for next year, but E-ramis is hitting again (.361 in July with a 1.200 OPS, four homers, 9 RBI and more extra base hits (7) than Theriot has all season (not really, but close, 11).
I guess that's too many if's, huh?
So that's my best crack at it.  Lilly, Fontenot, Kosuke and Nady will be on other teams trying to win a pennant, while the rest of the losers count their money and wait anxiously for an early start to their fall vacation.
By the way, Kermit and I will be doing one of those Cover It Live, live chats during the All-Star game tomorrow night at Fisted Foul. Stop by and join in on the snark.