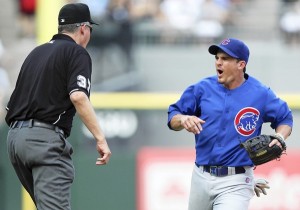 Now that Ryan Theriot is mercifully on somebody else's team, we can take a moment to remember a time when he wasn't a terrible fielding, addle-brained baserunning, wiffle bat carrying douchebag.
We can take a minute to remember when he bailed out the 2007 Cubs by replacing a terrible Cesar Izturis and playing a passable shortstop.  We can remember that when the Cubs foolishly didn't upgrade that position in 2008, and he posted a now-unbelievable .387 on base average.
That Ryan Theriot was a scrappy overachiever, filling a spot that he wasn't talented enough to play, but making it work through sheer effort.
But it was mostly a mirage, and we all ignored the things that he couldn't do until they piled up so high we couldn't see around them anymore.
For a guy who made it to the big leagues by doing all of the little things, he had an embarrassingly poor understanding of the game and his own abilities.
His above average foot speed was useless on the basepaths because he was a terrible and completely uninstinctive baserunner.  His defense at short was inadequate.  Just like on the bases, his inability to put his speed to use meant he could run himself out of position better than any other player in either league.  And he constantly outplayed his arm.  He'd set up in places on the field that he couldn't possibly throw out an average baserunner from.  His plate discipline was a tremendous asset in 2008 (he walked more–73 times–than he struck out that year–58 K's), but it was non existent in 2009 (51 walks and 93 strikeouts), and got worse this year (46 K's to only 19 walks).  He had such a long stretch without a walk this year that when he finally drew one in Houston he gave Lou Piniella a high five.  Lou was not amused.
In May, the Cubs called a real shortstop up from the minor leagues, and Theriot moved to second base.  It seemed like a good idea.  He didn't have the arm or range for short, so maybe second would be good.  But he was terrible there.  It's the position he's going to play for the Dodgers, and God help them.
But there were two moments that sunk Theriot and led to the Cubs shipping him away.
The first happened two years ago.  He made a key error in game two of the 2008 NLDS against…the Dodgers.  He tried to field a double play grounder barehanded…nobody knows why, but he did.  He kicked it and the Cubs melted down in that inning, fell behind 2-0 in the series and the season was over.
The second was his winter.  Theriot took the Cubs to salary arbitration and "won" $2.6 million.  He wasn't worth it, the Cubs didn't like paying it and it was only a matter of time.
Theriot became a fan favorite at Wrigley Field.  Fans love bobbleheads, so it shouldn't be a surprise.  It's too bad the Dodgers have already played their series at Wrigley this year.  The dumbass masses are sure to give Ryan a standing ovation when he returns.  Ugh.
A lot of the appeal of Theriot came from things that weren't true:
- He's not a "kid."  He's 30 freakin' years old.
- His best year, 2008 was when he was 28, just about the time players start their decline.  He's never ever going to be that good again.  (And that wasn't that great in the first place.)
- He's a gritty player.  A "winner."  Winners don't get picked off first with regularity, and winners don't give a way a month's worth of at bats trying to hit homers that he doesn't have the power to even threaten.
The cost of dumping Theriot on the Dodgers was including Ted Lilly in the deal.  The one Cub at the trade deadline with actual trade value, and they had to use him to get rid of this dope.
In return the Cubs get a pair of minor league pitchers.  One is Tim Wallach's kid.  We remember how well drafting Carney Lansford's kid has worked out for the Cubs.
And, they got Blake DeWitt, the son of "Three's Company" star Joyce DeWitt.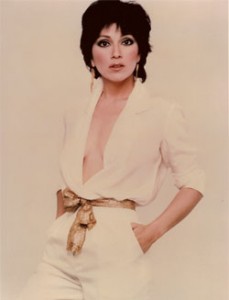 Blake's only 24, he's a lefty batter who posted an OPS plus this year (while sharing second base with fucking Ronnie Belliard) of 99 (30 points higher than Theriot.)
DeWitt bats lefty, can play second, third and even short.  He's Mark DeRosa, but a lefty hitter.  Interesting, if DeRosa had batted lefthanded he'd have spent all three years in Chicago.  The problem with being the next Mark DeRosa is that the original wasn't any damned good until he was 30.
The Cubs seem hell bent on giving DeWitt the second base job.  It's something he could never convince Joe Torre to, even as he was posting better numbers and performances than any other Dodger second baseman.
There's no assurance that DeWitt can actually handle the full time job.
He hit nine homers in part time duty in 2008, but spent almost all of last year in AAA.  This year he's batted 256 times, and has as many homers (1) as Theriot.
So if it doesn't pan out and the Cubs traded Lilly and Theriot for nothing.  Not just nothing, but nothing and a check for $2.5 million, what does it mean?
It still means that Ted Lilly was the best free agent signing of Jim Hendry's Cubs tenure.  Lilly's the guy he famously signed while being wheeled in for an angioplasty at the 2006 winter meetings.  Four years, $40M and it ended with him going 47-36 with a 3.70 ERA.  His biggest problem previously had been his control, but in four years with the Cubs he struck out 598 and walked only 184.  He also got rocked in game two of the NLDS against Arizona in 2007 and whipped his glove into the ground, which was…interesting.
There's talk that Ted will consider coming back to the Cubs this offseason, and that the Cubs are interested.  Trading him to the Dodgers is a step in that direction.  They are unlikely to offer him arbitration, so the Cubs would be able to resign him without giving up any draft picks.
But, Lilly's 34, he's coming off army surgery and his fastball is hanging out in the mid to high 80s.  It might be best to just remember the four years of the Ted Lilly era fondly, and not try to push it.
The deadline came and went and Kosuke Fukudome, Derrek Lee and Carlos Zambrano are all still Cubs.  Kosuke and Carlos will sail through waivers, so they could still be traded in August.  There's just one small problem.  Who the hell would want either one of them?
And Lee turned down a chance to be traded to the LA Angels of Anaheim, and said he didn't want to be traded anywhere.  Now I can see turning down a chance to play for a team that's not going to catch the Rangers, but teams with an actual shot at the playoffs, like the Rangers and Giants were interested and Derrek basically said, "Nah."
Apparently winning the World Series with the 2003 Marlins was so awesome, Derrek doesn't want to ever crowd that memory with anything else.