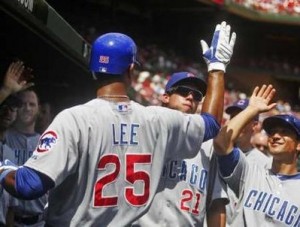 A month after professing his undying love for the Cubs and refusing to forsake them for a team with a chance at the pennant, Derrek Lee agreed to be traded to the Atlanta Braves.  Presumably he had to sign the agreement while lying face down on a massage table, probably holding the pen with his mouth as someone stuck the piece of paper up to the face hole.
Lee's going to the Braves is surprising, because a) he's sucked this year, b) his back is so fucked up he hasn't played since Sunday and c) the Braves normally don't do stupid shit like this.
But, these are the same Braves who thought trading for Rick Ankiel and The Farns at the trading deadline was a good idea.  They're obviously all on crack down there in the ATL.
Our good friend Paul Sullivan has all of the juicy details, so let's just rip off his story, shall we?
A dozen Derrek Lee jerseys were neatly folded and stacked up next to his locker Wednesday morning, but the Cubs first baseman was nowhere to be seen.
Sully can really paint a picture.  What the hell were the Cubs doing with 12 Lee jerseys?  Is Tommy singing the stretch on Friday?  OMG!  I'll tell him about the Hep-C cure that I read about on Craigslist!
Lee declined to speak to the media concerning a Tribune report that a trade to Atlanta was in the works. He didn't come out to the field and was receiving treatment on his lower back.But the deal is done, with the Cubs announcing after their 5-1 loss to the Padres that they had sent Lee and cash to the Braves for three pitching prospects: right-handers Robinson Lopez and Tyrelle Harris and left-hander Jeffrey Lorick.
Three guys for a guy hitting .251 and posting an OPS plus of 94?  Did I mention he has a bad back?  I have a Camry with 88,000 miles on it, maybe Frank Wren will trade me Melky Cabrera for it?
"A chance to go to the postseason, it's hard to pass up," Lee said in explaining why he agreed to waive his no-trade rights.
Well, three times you mean.  You already passed up a chance to play for the Angels (good move) and Rangers (not so much.)
"Most people should be excited in the way we're moving forward," Cubs general manager Jim Hendry said of the Cubs' sell-off of veteran players.
We are Jim.  We're so excited you could build a team that could be 21 games under .500 by mid-August so you could pay teams to take your players.  You're doing a great job.  Now see if you can trade Kosuke and $12 million to Office Depot for paper for Pat and Ron's fax machine.
Citing major-league sources, the Tribune's David Kaplan first reported that a deal sending Lee to the Braves was close. One holdup has been Lee's bad back, which has kept him sidelined the last two games.
Holy crap, you could actually see where Sullivan was cringing as he gave credit to Kaplan.  See, this is why we normally don't let Crane Kenney know stuff like this.
The trade was first discussed Sunday evening when the Braves called Hendry and inquired about Lee as a potential replacement for Chipper Jones, who is out for the season with a knee injury.
Frank Wren: Jim, it's Frank.  Chipper fucked up his knee.  It's bad.  He can't even limp to Hooters it's so swollen.
Jim Hendry: Derrek Lee just fucked up his back.  He's going to need an epidural.  Poor guy had to crap standing up in the shower after the game today.
Frank Wren: Stop right there.  You sold me!  I'll take him!
As a 10-and-5 player, Lee could reject trades, as he did an earlier proposal that would have sent him to the Los Angeles Angels. But Lee was OK with going to Atlanta because the Braves are in contention for a World Series berth.
I like Derrek. Stand up guy, no excuses.  Always played hard.  I have no hard feelings over him stealing money in two of his seven years as a Cub.  Go get 'em Derrek!
Addressing the "so-called curse" affecting the Cubs, Lee said, "Having to hear about losing kind of puts you in a negative environment."
What?  Oh, go fuck yourself.  I hope you fall down the rickety steps from the visitor's clubhouse to the dugout on Friday.
Asked if trading Lee would hurt the Cubs, outfielder Alfonso Soriano said, "Yeah, mentally. All those guys we traded are great guys and we feel like a family. So when you lose somebody like that it hurts you mentally."
A family?  Susan Smith had a more functional family than this bunch.  Somebody get me a hammer and a life jacket.
The Cubs already have traded three members of the 2008 division-winning club — Ted Lilly, Ryan Theriot and Mike Fontenot — while releasing another, reliever Bob Howry. When Lee is gone, the Cubs likely will bring up Triple-A first baseman Micah Hoffpauir and platoon him with Xavier Nady.
Awesome job, Hendry.  So far he's traded a solid pitcher, two dwarfs, a first baseman with a bad back and it took him two months to dump Bob Howry.  I have no idea how the rest of the NL Central can keep up with such brilliance.
Lee was asked Saturday about his decision to reject a trade to the Los Angeles Angels in the final week of July.

"First of all, when I made the decision, we weren't playing this bad," he told the Tribune. "I think I just separate it. I don't look at it like, 'Oh, I made the decision to stay, I wish I hadn't.' I made the decision, and that's over with, and this is something else."
First of all, the Cubs have been playing this bad all year.  Second of all, you didn't have a second of all.  So why did you have a first of all?
Regardless, despite the awful line about fan negativity keeping the team from winning, I'm going to miss Derrek.  Classy guy.  Great defensive player.  Won a batting title.  Managed to keep batting third after that, even though he wasn't nearly good enough to do it.  Bravo.
Lee apparently decided Sunday that a trade to Atlanta would be beneficial, while one to the Angels would have been a detriment to his impendng free agency. The Angels are on the periphery of a race, while Atlanta is in first-place in the NL East.
You know what would really help Lee's free agent status?  Being able to stand up, and not being a below average offensive player for an entire season.  Good luck.
The Cubs play the Padres again tomorrow and then on Friday?  The Braves!  Atlanta has a home game with the Nats tomorrow, but I have a hunch Derrek will just wait for them to show up in Chicago on Friday.  Now that's the kind of fire and determination that will really win over a guy's new teammates, won't it?