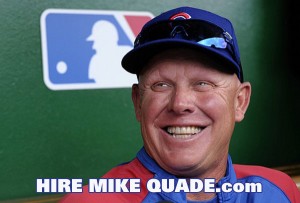 The Cubs 8-3 win over Houston on the second to last day of the season gave them their first series win (in six tries) against the hapless Astros.  It also pushed the Cubs record under interim manager Mike Quade to an impressive 24-12, and that includes an absurd 17-4 record under Quade in road games.
The Cubs are not a particularly good team.  They aren't a terrible team, either, but going 24-12 with them is impressive.  Even if you discount it because it's September (and now October) and the other teams don't give a shit, you have to give Quade credit for making the Cubs give one.
Besides, the Cubs didn't roll over when they played pennant contenders under him.  (Well, they did lose 13-0 that one night to the Giants.)  They swept the Cardinals in St. Louis and faced Jaime Garcia, Adam Wainwright and Chris Carpenter and ended what little chance St. Louis still had.  And they took three of four in San Diego this past week when the Padres were clawing to stay atop the NL West and/or Wild Card hunt.
But there are three reasons that Mike Quade deserves to be named the Cubs manager for 2011 (I was going to write "permanent manager" but there's no such thing).
a) Unless Joe Girardi decides to torpedo his own career and leaves the Yankees, there's really no standout candidate.  Eric Wedge?  The bland and banal Bob Melvin?  The untested top choice of the idiot horde, Ryne Sandberg?  Quade's put in the time, he took a thankless job at the end of a long season and ran with hit, and now even the players on the team want him to stay.  Carlos Zambrano gave him the ultimate stamp of approval on Saturday night, he threw his first tantrum in three months when Quade took him out of the game.
b) He works well with pitching coach (for life) Larry Rothchild and with hitting coach Rudy Jaramillo, and that's important, considering the Cubs are sticking with both of them.  Jaramillo's signed for two more years, and Rothchild has been the Cubs pitching coach for a decade (seriously).  You have to be impressed with the job Quade and Rothchild did sorting out the pitching staff after Lou Piniella left. The starting pitching has been outstanding and the bullpen has only occasionally shat all over itself (normally when Marcos Mateo gets involved.)
c) Because Quade's an awesome guy, who has more than paid his dues, and guys like that deserve a chance, because when you give it to them, good things tend to happen.  But don't take it from me.  Take it from Scott Miller of cbssports.com:
Nice headline.  I'd have worked Alpaca into it, but it's strong.
SAN DIEGO — It was 1987, and Montreal's Double-A affiliate was busing from Jacksonville to Memphis at 2 a.m., a nice little 14-hour ride, when somewhere in the Tennessee darkness, there was a strange, awful noise from the back of the bus, followed by a raucous player reaction.

Mike Quade, then a coach on manager Tommy Thompson's staff, looked out the window from the front of the bus and saw a rear tire disappearing into the horizon.

"You don't just fix a broken axle," says Quade, chuckling at the memory.
Not that Quade didn't try, it's just that the Expos were too damned cheap to get him the European socket set he needed, and they were completely out of Fetzer valves.
There are few things the man knows as well as baseball but, in this instance, auto mechanics certainly was one of them."It was a very talented, prospect-laden club," Quade says. "We had Larry Walker, Randy Johnson, and we're on the side of the road in the middle of Tennessee. Joe Kerrigan was the pitching coach, and he was concerned because guys were wandering off in the darkness, shooting off fireworks.

"I think we broke down six or seven times that year. The travel in that league was brutal. But to lose a back axle, this is a scary breakdown. This wasn't just a bus running out of gas."
Honestly, couldn't they have just used Randy Johnson as the rear axle?  No?  Fine.  Never mind.
So go ahead. Tell me that doesn't prepare a man to manage the Chicago Cubs.
OK.  If you insist.  Breaking an axle on a bus doesn't prepare you to manage the Chicago Cubs.  That was odd, did we really need to do that?
"He's done a very, very good job," Cubs general manager Jim Hendry says of Quade. "I'm very pleased. He's handled himself in all phases of the game very well. He's managed games well, he's done an outstanding job with the veterans, he's developed the kids well. There have been no negatives.

"I told Mike when he got the job that wins was not the telltale thing for him, whether he gets the job or not. He's gone about his business with the good of the organization and the good of the players in mind.

"Usually, you do that and good things happen."
Did Jim Hendry say "There have been no negatives?"  Well, then how can you not hire the guy, then?  Granted, there's a huge sentiment among dumb, casual, dumb (did I mention dumb?) Cubs fans (the kind who are just wrong a lot) for the Cubs to hire their Hall of Fame former second baseman Ryne Sandberg.  And you know that Hendry would do backflips (if his obesity didn't prevent it) to show how happy he is that Quade's success has given him a viable alternative to hiring Sandberg.
By the way, the last time it was good news for a Cubs official to say "there have been no negatives" also involved Sandberg.  It had something to do with Dave Martinez, Rafael Palmeiro, a corncob dress and a blackmail attempt purported to include photographic evidence.  But let's move on.
It's late September, and Quade is in a place he never expected, surrounded by an inherited situation he never saw coming.
Ooh, let me guess!  He's in Nebraska, in a Kum and Go bathroom and the guy before him used all of the toilet paper!  How close was I?
A season as broken as that bus axle, Lou Piniella rolling down the road toward his home in Florida after suddenly resigning to tend to his ill mother, Hendry handed Quade a wrench and the manager's job on Aug. 23 and told him to go get 'em. (Hendry is quick to remind that the phrase the Cubs used then and now is "manager for the year", not "interim.")
I was pretty close!
The Cubs were 51-74 at the time and sinking more quickly than the Edmund Fitzgerald.
Actually, if you knew your Lake Gitchigoomie from your elbow, you'd know it took the Edmund Fitzgerald quite a long time to actually completely submerge.  But if Jeff Samardzija had been involved, I'm sure it would have gone down faster.
What has happened since then under Quade's watch, while many have been looking the other way toward the pennant races, has been one of those heartening stories of the summer.

The man who has managed 2,378 minor-league games over 17 dusty summers traveling across the United States and Canada in broken-down buses with major-league dreams had maneuvered the Cubs to a 20-11 mark a game here Tuesday night.
Seventeen years in the minors?  Tell Sandberg to shove that up his "dues paying" hiney.
"Oh man, it's been a lot of fun crammed into a very short period of time," says the man known by most around the ballclub simply as "Q".
It's easy to feel giddy when you get to write names like Darwin Barney and Tom Gorzelanny on a big league lineup card.  Try to pace yourself.  Breath slowly…uh…Q.
Mid-afternoon, Quade sits at the big boy's desk in the visiting manager here, the one occupied by Dusty Baker a couple of days ago, and Bruce Bochy and Joe Torre a couple of weeks ago, and he has no clue yet whether he'll be invited back to take up permanent residence.

Over these past few weeks, Hendry has interviewed one former major-league manager — Eric Wedge (Indians) — and intends to interview another — Bob Melvin (Diamondbacks and Mariners). He has interviewed Hall of Famer Ryne Sandberg, the Cubs' Triple-A manager. There are others on the horizon.

Quade?

In his fourth season as third-base coach with the Cubs when his job title unexpectedly changed, he is managing just fine in what could be an unspeakably chaotic situation.
I have nothing else to add to that except I'm trying to fight the urge to mock Bruce Bochy's size eight head and to not write "fuckfuckfuckDustyBakerfuckfuckfuckarmkillingdouchebag."
"Why in the heck wouldn't he be interviewing people for the job?" Quade asks. "There are so many good baseball people out there.
There are a lot of good baseball people out there.  Just none on that list.
"If that's distracting me, then I'm not very good at what I'm doing."
Knock it off with the common sense and maturity.  Start blaming stuff on a goat, or too many day games, or how small the postgame interview room is.
What he's doing, maybe, is complicating Hendry's search more than anybody ever dreamed when a mostly then-unknown, funny-sounding name (it's pronounced "KWAH-dee") was promoted.

"People forget this, but I interviewed him before we hired Lou Piniella," Hendry says. "And I told Lou when I hired him that I wanted him on the staff."
He's not complicating Hendry's search, he's making it awfully easy.  He's kicking ass and taking names and treating players like grown men and expecting them to do their jobs, and he's impressing the hell out of everybody the Cubs play against.
Hendry has known him since Quade was playing at the University of New Orleans in 1979, when he was picked by the Pirates in the 22nd round of that year's draft.

"He's a lifer, a baseball guy," Hendry says. "I don't think anything more of him today than I did when we named him manager for the year."
I don't understand the second part of that Hendry quote.  His use of "I don't think anything more of him" just seems awkward.  I think Hendry meant it as a compliment, so let's take it that way.
Hundreds of far-flung baseball lifers — and, non-lifers, for that matter — whose lives have intersected with Quade's since his first year in pro ball are rooting hard for him to be named as the Cubs permanent skipper, judging from texts and messages he has received over this past month. Everybody from the former teammate who now sells insurance in Denver to the one-time prospect who learned to play the outfield under Quade's tutelage in Harrisburg, Pa., in 1991.
Lots of people wanted Dusty Baker to get the Cubs job in 2003, too.  Mostly they were the IRS and his other creditors.
"Good man," says 15-year veteran Matt Stairs, who started in left field for the Padres on Tuesday. "I'm very happy for him. I've always been a big fan of his — the way he's approached the game, his love of the game.

"It's interesting how he used to work me. We'd start in left field at the line, and he'd make me run poles [from the left-field foul pole around the warning track to the right-field foul pole]. He'd hit me fly balls as I was running. It gets you to run on your tippy toes as you're running after balls."
Stairs has forgotten that Quade used to taunt him with a long fishing rod with a doughnut on the end.  But hey, it worked, he turned Stairs into one of the best defensive outfielders in the history of Fredericton, New Brunswick.
Quade has earned fans inside the Cubs clubhouse as well.

"Tremendous job," starting pitcher Ryan Dempster says. "He's got experience. Just because you haven't managed in the big leagues doesn't mean you don't have experience.

"He's a tremendous communicator. And he's very positive."
Actually, not managing in the big leagues does mean you don't have experience.  I think you meant to say experience doesn't matter.  But knowing you, you were just making small talk while you fished through your locker to find the gag deck of cards you hid in there.
A man doesn't just roam the country like a gypsy and survive unless he's built that way. From 1985 through 2006, Quade's managerial path took him to these outposts: Macon, Ga. … Rockford, Ill. … Harrisburg, Pa. … Ottawa … Scranton, Pa. … Grand Rapids, Mich. … Huntsville, Ala. … Edmonton … Vancouver … Des Moines, Iowa.
Actually, other than Vancouver those are all the same town, the only thing that changes when you travel amongst the rest of them is the relative humidity.
He absorbed some of his managing skills from men like Bill Virdon, Chuck Tanner, Jim Leyland, Art Howe, Dusty Baker and Lou Piniella. Learned more from three farm directors who have been very important to him — John Boles (Montreal), Keith Lippman (Oakland) and Oneri Fleita (Cubs).
He learned lots of good stuff from those men.  In particular, Art Howe taught him you don't need eyebrows to appeal to the ladies, and Leyland taught him how to smoke during a lap dance without burning anybody.
He has gained experience by working beside dozens upon dozens of other coaches and players, guys long ago forgotten by many.

Such as Rob Katzaroff.

"I'll never forget it," Stairs says. "Harrisburg, Pa. We stunk as a team. Spring training was terrible. Opening day, Mike has a meeting. Tells us to relax, have fun, whatever. So he's throwing batting practice and he takes the [protective] 'L' screen away and says, 'Now hit 'em right at me.' Trying to get us to hit up the middle.

"Well, Robbie Katzaroff hits a line drive right into the middle of his stomach."

Quade, 53, had forgotten that one.

"I was a much younger man then," he says, laughing at the memory. "You still have a lot of fire in your gut, but back then, when you needed to make a point, you were looking at how you're going to do it. If you tell them, 'I'll throw batting practice without a screen', if that comes out of your mouth, you'd better move the screen."
Actually, this story isn't helping our cause here.  Let's pretend he didn't do that.  (Crap, that sounds like something Marty DeMerritt would have done.)
Tough? One night in Ottawa in 1993, two of his players, upset over failed at-bats during a difficult loss, angrily trashed the clubhouse postgame food spread. Now, at that time and at that level in the minors, there wasn't much to the spread, so what was there was like gold. The clubhouse manager came into Quade's office extremely upset, as if it were a personal affront.
Ahh, clubbies.  They get pissed at the dumbest stuff.  You just know that guy was mad because they were going to restock the concession stand with whatever hot dogs the players didn't eat.
"Seeing him upset made me furious," Quade says. "So I hammered the whole group."

Next day, just before the club was to take the field, from his manager's office, Quade heard AC/DC blasting in the clubhouse … along with what sure sounded like a vacuum. Quade peeked out his door and saw the two players guilty of ruining the spread the night before hard at work: Infielder F.P. Santangelo was vacuuming the clubhouse floor and catcher Joe Siddall was following behind with a broom. Lesson learned.
Wait, he managed FP Santangelo?  Shit, Quade's linked to the Mitchell Report now!  Or was that Fernando Vina?  Can anybody tell those two apart?
With Mark Mulder as his ace, he managed Vancouver — in a tiny park that seated only 3,500 — to the 1999 Triple-A World Series title during the third-rainiest summer on record there. "I bet it rained during 70 percent of our games," he says.

With nerves of steel, he passed through Charleston, S.C., back before people figured out 25-cent beer night might not be the wisest thing to do. "The Citadel is there, and people would be hanging on the fence behind the dugout," he says. "I thought it was great."
I don't know how great that was, Mike.  Those people were heavily armed.
He long ago lost all of his hair but that resulted from neither rickety buses nor forgettable minor-league towns. Rather, he was born with alopecia areata, a condition that leads to hair loss. Today, even his eyebrows are gone. Which leads to his other nickname from long ago friends, "Isaac."

The story? As the only white player on his high school basketball team in Morristown, N.J., teammates took to calling him "the white Isaac Hayes."
First of all, let's be sensitive to people with alopecia.  As GOB Bluth so eloquently taught us, they prefer to be called Alpacas.  And Isaac Hayes was an Alpaca?  Is that true?  What were we talking about?
Who is Mike Quade, the man who would manage the Cubs?

The man who right now is managing the Cubs?
Is that second one a question?  Did you just answer your own question with a question?  Did I just answer your question answer question with a question?
He's the temporary skipper with resolve steely enough to sit phenom Starlin Castro for a couple of days when the supremely talented rookie shortstop needed to reboot his mental game.
He did take some crap for that, but it kind of made sense.  You give Starlin one day off it's a day off, you give him two days off and it sinks in that he's got to actually learn from a mistake to get back in the lineup.  If you don't have the balls to do it when you're hopelessly out of the race, you'll never do it when you're in it.
He's the baseball lifer who will head home to his favorite fishing hole in Bradenton, Fla., when this is all finished and cast another line into the game if the Cubs move, as they say, in "a different direction."
He's gonna need a shitload of sun block.
Though Hendry has set no timetable for making the hire, it should be sometime before key Cubs baseball people convene for the annual organizational meetings the first week of November.
It's going to be the day after Joe Girardi signs his contract extension with the Yankees, that's when it's going to be.
"I've told people from day one that I won't get into the decision process until I'm through it," says Hendry, who will make the hire under new owner Tom Ricketts.
That sentence doesn't make any sense either.  Hendry's on a roll.  Now's the time to have him explain the infield fly rule.
Until that point, Quade simply will manage the best he can.

"As you're rolling through this game, you're so appreciative of the people you've been with and worked with," Quade says. "It all comes back to you. I've been around an incredible amount of good people. …

"For 30 years, I've had a one-year contract. It's not like I'm a fish out of water. I'm very familiar with that.

"I'd love to break that string."
I'd love for you to do it, too, Mike.  What started as just another interim manager job, like the disastrous turn of Bruce Kimm, has turned into something a guy who's been managing teams in medium sized towns in the US, and resort towns in the Caribbean has turned into a full-fledged audition.  One he's completely owned and impressed with.
If it really comes down to a choice of Wedge, Melvin or Sandberg, there's only one solution.
Hire Mike Quade…dot com!