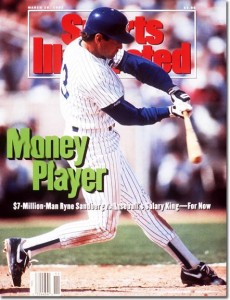 When the Cubs passed over fan favorite Ryne Sandberg to hire Mike Quade as their new manager yesterday, it was sure to do two things.
1. Give the idiot horde reason to yell nonsensical things like, "The Cubs OWE Ryno a chance to manage!" or "I'm never going to go to another game at Wrigley Field because it was my dream to go to a game and watch a guy sit in a dugout for several hours!"
2. Put Phil Rogers into full angst mode.  Remember last year when he seemed to take it personally when the Cubs decided to pass on trying to trade for Curtis Granderson, and instead spend a modest amount of money on Marlon Byrd?  You can multiply his sense of personal wound by a factor of ten when our favorite Milquetoast Wonder Boy is involved.
Admittedly, I have a different view of Ryne Sandberg than a lot of Cubs' fans.  It's not that I didn't appreciate him when he played, he was truly a great player and he deserved to be in the Hall of Fame and Joe Morgan deserves to suck on a bus tailpipe for all of the bitter shit he's said about Sandberg over the years.
But the Cubs have humored Sandberg enough over the years.  More than any player with the possible exception of Sammy Sosa.  Whatever Sandberg wanted, he got.  Do we need to list the things?
Let's start listing the things.
1. For about six years the Cubs batting order was wrong even though they had a prototypical number two hitter on the roster and a prototypical number three hitter on the team every manager had to bat them in reverse order because Ryne didn't "feel comfortable" batting third.  He'd never come right out and say he wouldn't do it, but, he never gave any indication that he would and hinted that it wouldn't work if they did bat him third, and they did try and they always bailed, quickly.  Remind you of anybody (cough, cough, Sammy, cough, cough, ouch my back, buddy!)
2. In 1992, he signed a four-year, $28 million contract–which now seems modest, but at the time was the biggest ever.  The Cubs wanted to reward Sandberg, who was now 32 years old, for a slew of really good seasons.  Two years later, he quit and went home, without any warning.  Hey, thanks!
3. A year and a half later, he decided he wanted to play some more after all.  So he put the Cubs in the position of telling him, one of the greatest players in their history, that he couldn't come back.  The Cubs couldn't find the balls to do that.  So he got to come back.  And hit .244 in 1996 and hit .264 with no power in 1997.  Gee, thanks.  Glad we could help you out, Ryne.
4. I'm pretty sure that Dave Martinez and Rafael Palmeiro can tell you just how much clout Sandberg had in the late '80s.  Or maybe the Cubs really did think the Mitches they traded those to for (Webster and Williams) were better.
5. Games in April count, right?  So why did everyone always so quickly dismiss the fact that Sandberg tanked in April…every April?  For his career he hit .230 that month with a terrible on base average (.295) and non-existent slugging (.365).  Shit, if he managed that way, the Cubs would start every season like 1997.  Did he ever try to vary his routine to maybe not suck in April?  Did the Cubs ever dare to tell him to try something else?  All of a sudden it would be May, and he'd hit a homer and Harry Caray would yell and try to pretend that it wasn't ludicrous that the Cubs' second baseman took 30 days of personal time to start every season.
6. When the Cubs let Dusty Baker's contract expire without trying to sign him to a new one after 2006, Sandberg said he wanted to manage the team.  The Cubs could have laughed at him and told him to go pound sand, instead they offered him a job managing in the system.  Whether they expected him to take it or not is another thing altogether.  But it was another case of them pacifying him.
To his credit he took the job and he worked hard and he worked his way up through the ranks.  But that didn't guarantee him the big league job.  As far as we could tell, the Cubs had never told him no when he'd really demanded anything from them.  And surely, they wouldn't do it this time.
But they did.
Finally.
Hall of Famer did more than was asked and deserved shot at managing club

If you don't want to catch a trophy fish, you shouldn't go fishing.
Wait, is Phil the outdoors reporter now, too?  Trib is really cutting back these days.
Jim Hendry dropped a line in the water the day in the fall of 2006 when he suggested Ryne Sandberg learn how to be a baseball manager by going back to the minor leagues, a trip Hall of Fame players almost never make. He seemed happy Sandberg took him up on the offer, agreeing to manage low-A Peoria, four rungs away from where he wanted to be, at Wrigley Field.
I'm not sure how happy Hendry was, but I'm pretty sure he didn't say, "You know Ryne, you go down there and as soon as we're done with Lou we'll just give you the job.  How's that sound?  Hey, you want half of my sandwich?"  I know he didn't say the sandwich part.  Jim doesn't share food.
But it seems crystal clear now Hendry never considered Sandberg as a legitimate managerial possibility, for reasons known only to the Cubs' general manager.
It doesn't seem clear at all, Phildo.  If they never considered him a possibility, why did they keep moving up through the system?  Why not just let him rot in Peoria until he quit?  I know this is going to seem like a novel idea, but maybe…just maybe, the Cubs think (gasp!) that Mike Quade will be a better manager than Sandberg.   No, that's crazy talk.  Sandberg hit two homers in one game off of Bruce Sutter!  Quade never did that.  Quade sucks.  Sandberg's awesome!
When Lou Piniella left town after the seemingly inevitable failure that befalls someone with enough hubris to think they can succeed where no one has since Frank Chance, Hendry had a major catch waiting for him, already on the line.
Joe McCarthy and Charlie Grimm want to have a chat with you, Philbert.  And I know you are going for the tortured fish analogy, but if Sandberg is such a major catch, why hasn't any other team ever interviewed him to be their manager? Bob Melvin can't not get interviewed.  People can't get enough of that old Melvin electricity.  "Hot damn, there's a managerial opening?  What time do you want to interview Melvin?" But Ryne Sandberg has only every interviewed for one job, and he didn't get it, and that's your whole reason for this awful column.
Yet on Tuesday, Hendry officially threw back Sandberg — an ill-advised catch and release that will bring consequences far beyond the offices at Clark and Addison.
Oh, this is going to be good.  Go on, Phil.
Sandberg deserved to be the Cubs' next manager. There shouldn't even have been a search, really. This was a no-brainer — hiring a great player with enough humility to ride buses alongside 22-year-old players and enough knowledge and presence to not only develop those players (a minor-league manager's primary job) but also to win.
Did you really just write that there shouldn't have been a search?  This is based on what?  Four years of managing in the minors and having been really, really good at PLAYING baseball?  Did you notice that the guy they did hire managed in the minors for 17 years, and coached in the big leagues for eight?  What you are saying is that because Sandberg was better at playing baseball than Quade, that it automatically means he'd be better at managing than him.  You're the same guy who can't suck on the teets of guys like Tony LaRussa or Bobby Cox enough, even though both of them were wash-outs as players.  By your logic, the Cardinals and Braves should have replaced them with Ozzie Smith and Eddie Matthews years ago.
It's the last part that sometimes gets lost with Sandberg. It would make sense to hire Mike Quade, not Sandberg, if Sandberg's teams had struggled. But in the last two years he took a Double-A team to the league championship and produced the most victories in a 16-team Triple-A league.
You just said it didn't matter if a minor league manager wins games as long as he develops players, and then you say that Sandberg should have gotten the job because his teams won.  Even for you, contradicting yourself in consecutive sentences sets a new standard.  Blah, blah, blah, we all know that Ryne Sandberg was the Pacific Coast League manager of the year last year.  Pat Listach won the PCL manager of the year award in 2008 and how come he doesn't get to manage the Cubs?
If what Sandberg has done isn't enough to get a chance to manage in the big leagues, when exactly will another player with similar stature sign on for a minor-league apprenticeship?
And who gives a shit if they do?  How many Hall of Fame players went on to great managerial careers?  Would it really be a big loss if the zero percent who are likely to be good at it don't try it?
Hendry and Cubs owner Tom Ricketts may just have ended the possibility that another Hall of Fame player ever could become a manager, unless that player simply was handed a big-league job without minor-league experience.
If Phil's this mad about this, wait until Ricketts tells him he's canceled Christmas, too.
That's a shame. Baseball would be a lot better off if guys like Carlton Fisk, Dave Winfield, Paul Molitor and Greg Maddux would get their hands dirty again after the end of their careers. Yes, Maddux is a special assistant to Hendry, but you don't see him signing up for a full-time job, do you?
Phil, I know you've somehow gotten to where you are by never being able to apply logic to any situation, but do you really think that if any of those four thought they wanted to be a manager that they'd be all set to go and then say, "Shit!  The Cubs didn't hire Ryne Sandberg.  It is now obvious to me that no team will ever hire anyone who has a Hall of Fame plaque to be a manager, therefore I should just go back to playing golf every day and trying to spend the shitload of money I still have!"?
How about we just look at what we know about Sandberg's managerial career.
He got thrown out of lots of games, almost a ridiculous amount as a matter of fact.
Nope, that first one was really all we know.
Baseball on the management side is hard work and doesn't come with the adrenaline rush of those six or seven minutes a day at the plate. Nor do these jobs pay a lot, not compared to the salaries of elite players. It was remarkable Sandberg was as dedicated as he was for four years, and Hendry and Ricketts essentially have crumpled up his resume and thrown it into the waste bin.
You can't have it both ways.  Either Sandberg was such a great candidate (remember, you just said they shouldn't have even bothered to conduct a search) that it's unconscionable that the Cubs didn't give him the job, or his candidacy was based solely on the fact that he once played for the team, and therefore now that they've passed him over he has no chance of ever managing.  If the second one is what you think then they never should have considered hiring him anyway.  It must be tiring to be as dumb as you are, all the time.
Ricketts said Hendry made "a tough call" in picking Quade over Sandberg and Hendry tried to salute Sandberg by calling him a "terrific Cub." But if Doug Melvin sees the Cubs' decision as the opportunity that it is, Hendry soon will be calling Sandberg the manager of the Brewers — and if not the Brewers, then maybe the Blue Jays, Marlins or Pirates.
Well, there you go. If Sandberg was such a great candidate then another team will do what teams do all the time to the Cubs, they'll swoop in and and take advantage of a Cubs mistake.  But here's the problem, Phil.  None of these teams are going to hire Sandberg.  And that's not going to prove that the Cubs made a horrible mistake by not hiring him, it's going to prove that his candidacy had nothing to do with whether or not he could manage, and everything to do with the Cubs being pressured into hiring him because it would be popular.
And it would have been popular for about six months.  He'd have gotten a thunderous ovation by the sweatpant wearing throng at the Cubs Convention.  There'd have been about 800 puff pieces written about how great it was going to be to have a "real Cub, who "gets it" as the manager.  And then the games would start for real, the Cubs would suck and other than the nine fans who foolishly bought tickets to watch him manage, the rest would start boo-ing.
It's actually better for Sandberg if he gets a job with another team, because then it has to be about merit.  It has to be that a team thinks he's the right man for the job, not just the right name.
Scores of men have received interviews for the managerial positions open this fall — nine at one point, with five remaining. Few of the names open doors like Sandberg's should.
Why should his name open doors to interviews?
"You know what we need in a manager, Charlie?  We need a guy who could field the shit out of a ground ball."
"I've got just the guy!"
And if it's true that "scores of men" have interviewed for open jobs this fall, why haven't any of those teams other than the Cubs interviewed Sandberg?  Eric Wedge had a line of baseball dopes at his door trying to give him a job.  He got the job in Seattke where Sandberg would have been a local-boy-made-good story.  But the Mariners didn't even bother to call Sandberg.
Were other teams holding off on contacting Sandberg because they respected his preference to be in Chicago? We'll find out in the next few days.
The answer to that question is no.  Teams knew that if the Cubs wanted Sandberg they would have just hired him.  They didn't call, because they didn't want to.  Maybe he gets an interview next week.  Actually, if his agent is any damned good he will get an interview next week.  If he ever wants to be a serious candidate he has to at least be able to get a front office to give him a token sit down so he can keep his name in play.
Sandberg has chosen his words carefully in the light of the decision, which he told the Tribune's Dave Van Dyck left him "disappointed." I would bet at some point Tuesday he used a little stronger language.
Hopefully, at some point today he read the Tribune and said, "I'm fucked now.  The only guy who thinks I should have had this job is that dumbass Phil Rogers."
Would Sandberg have been successful as the Cubs' manager?

There's no way to know. It's impossible to know how anyone will do managing a big-league baseball team until they have done it for a season or two.
So every team should just blindly pick some of their great former players and give them all two years just for shits and giggles?  Because "who knows?"  You can't really be this dumb.  You had to be drunk again when you wrote this, right?
Sandberg could have been great; he could have blown up like a decorated version of Terry Bevington. He should have gotten the chance. Even Bevington got the chance, for goodness sake.
Great comparison to end on, Phil.  Terry Bevington…just another former Hall of Fame player made great manager.  Kudos to you, sir.