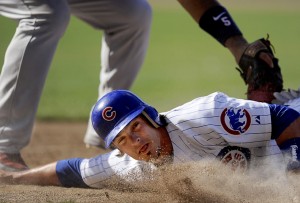 Dear mouthbreathing hillbillies of the world,
I want to congratulate you on your favorite baseball team's recent acquisition of Ryan Theriot to play…(pardon me while I try not to laugh and urinate at the same time)…shortstop for you next season.
You're going to love him.  He's full of the false hustle and overrated grittiness that you seem to hold so dear in your baseballers.  Oh, and he's a white guy, so you'll get a kick out of that.
There's a lot to really like and admire about Ryan Theriot.
He made it to the big leagues despite not being a really good athlete.
He made it to the big leagues without being all that fast, his arm is pretty weak, and his baseball instincts are for complete shit.
Other than the fact he can't play defense, can't hit and can't run the bases he is awesome at baseball.  So it's really a great move for your team.  I assume that he was the Cardinals' fallback when they couldn't talk Stubby Clapp out of retirement.
What you're going to really appreciate from Theriot is that he's a winner.  Oh sure, the teams he plays on lose a lot, but he's a winner.  If you need a nine hop dribbler to shortstop in a key spot, Ryan Theriot is your man.  Oh, it won't advance a runner or get him on base, but he'll get it for you.
If you need a guy to try to go from second to third with nobody out on a routine grounder to short, Theriot's your man.  Oh sure, he'll be out at third by about 18 feet, but he'll be running really hard when he does it.
Need a guy to be completely indecisive about whether to tag up and try to score on a flyball from third?  The few times Theriot actually gets to third base, he will make that situation pay off by bouncing up and down instead of tagging up or going halfway and then guessing wrong about what he should do about 87 percent of the time.  The fact that a third base coach is telling him what to do doesn't matter.  That little grit-box has no need for coaching assistance.  He's all instinct, that guy.
Even though he's completely overmatched defensively at shortstop, (he makes up for a stunning lack of range with a terribly anemic arm), he claims that he can only hit when he's playing short.  Last year he hit .339 with a .758 OPS at short and only .254 with a .606 OPS at second.
Now that is versatility.  The only way he can be of moderate help at the plate (because even a .758 OPS is shit) is if he's killing you in the field.
What Theriot ignores with that statement is that almost all of those at bats came last April when he was getting on base at a decent clip thanks to an unsupportable .395 batting average on balls in play.  His little dribblers were finding holes or dying in the grass in front of fielders.  Because he was still striking out way too much for a guy with no power (16 times in 101 at bats) and it didn't matter if the Cubs had played him at second or left or had him pitch or if they strung him up by his tiny little socks on a rooftop, or left him at short, his average (thanks to the law of) was going to end up in the toilet at some point.
But rest assured, should you somehow contend for a playoff spot in 2011, Theriot will come up huge.  Why the trade from the fifth-place Cubs to the Dodgers last July 31 rejuvenated him.  He could smell the postseason and he loved that stench.  And he came through for the Dodgers hitting .242 with an on base of .323 and a slugging of a whopping .283. He's got a .581 OPS in the playoffs, too!  Reggie Jackson better look out, somebody else wants to be Mr. October.
He's a great young talent.  Oh, did I mention he's 31 years old?  (An awesome combo, he's old, slow and has no power.)  His OPS plus trend is pretty exciting.  It was 72 his first full-season as an every day player and then it surged to 92 in 2008 (almost competent!) the one year he actually took walks and embraced the few things he did well, and since then?  83, 70 (with the Cubs last year), 69 (with the Dodgers last year.)  He's got a 50 in him somewhere, I hope you get to see that!
I was really impressed that your Cardinals traded for him when the Dodgers were going to non-tender him.  Bold move to lock yourselves into no less than $2.6 million for next season, considering on the open market (if you'd waited one more day) he could command between $500,000 and $750,000.  Savvy.
But if there's anybody to be excited for, it has to be Blake Hawksworth, the mediocre pitcher you sent to the Dodgers.  A lot of us had him in the "next Cardinals pitcher to die in a drunken car wreck or drug-induced hotel nap" pool.  Congrats to the Cardinals for saving a life yesterday.
I endorse the Cardinals bold strategy of trying to build a pennant contender out of two great players, an injury prone Cy Young contender, the whiter, balder version of Alfonso Soriano in left field and 21 awful players.  Let me know how that works out for you.
I also endorse the fact that the Cardinals seem to have fired every scout on their payroll.  How else do you explain trading an actual player for one of the worst every day players in the big leagues?  Gotta admire how lean that organization is.  Smooth.
Theriot said yesterday that he's "glad to finally be on the right side of the Cubs-Cardinals rivalry."  I couldn't agree with that more.
He's on the right side alright.
Yours.
Enjoy.
Suckers.
Love always,
Andy