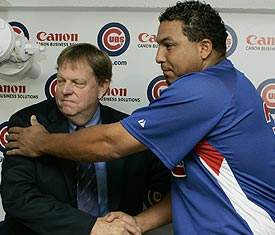 Today, the Cubs struck a blow for freedom of the press (or something.)  It was just three days ago that the pigment challenged beat writer of the Sun Times stuck his little pencil neck out and declared the Cubs the front runner to acquire the talented, but batshit crazy Tampa Bay Rays righthander Matt Garza.  Fellow baseball writers on the internet scoffed at poor little Gordon.  Buster Olney said the report was full of crap.  Marc Topkin of the Tampa Bay-Del Boca Vista Review (or whatever the hell it's called) said it was just wrong.  Bruce Miles rolled his eyes.  Paul Sullivan halted his latest bobblehead photo shoot to debunk the rumor.
Even Carrie Muskat took time out from shushing people at the library to tweet that it wasn't accurate.
And today, the Cubs have traded at least four players to the Rays for Garza and possibly a second player.  Desipio has confirmed that the second Rays player in the deal is likely to be Fred McGriff.  Wait, I hope that's not right.  Never mind, that was an e-mail from 2001.  Too bad it was right at that time, though.
The deal is likely to rile up the pseudosabermetricians that make up so much of the Cubs blogosphere.  I'm as big a fan of advanced metrics as the next guy.  I once traded our dog to the neighbor because I thought his German Shepherd had a higher OPS-plus than our Schnauzer.  (We had to take the Schnauzer back because she flunked her physical–fleas.)  But the reason they'll be upset is because the Cubs are giving up four prospects, three of whom actually have pretty solid minor league numbers and the other is a guy who was converted from infielder to a catcher and he hit the shit out of the ball last year.  It's not the numbers that I don't trust.  It's the analysis of the self-proclaimed experts that I don't trust.
The Cubs are sending their minor league pitchers and hitters of the year to the Tampa.  These awards are prestigious.  I'm sure Corey Patterson and Donnie Veal are using theirs at the moment to keep their XBox 360s from overheating.  Corey's still jealous that his little brother was once given $100 from the www.nsbb.com for being THEIR minor league player of the year once upon a time.
Chris Archer had a great year for the Cubs last year.  In stops at high-A Daytona and AA Tennessee he went 15-3 with a 2.34 ERA, 149 K's (to only 65 walks) in 142 innings and he allowed only 102 hits.  That's getting it done.  And he's only 21.
Brandon Guyer spent all of 2010 at Tennessee and he had his breakout season.  He hit .344 with 13 HR, 58 RBI, 30 stolen bases and a .986 OPS.  He's 24 he can play all three outfield spots and the only real knocks on him are that he projects as corner outfielder but he doesn't have much power and he bats righthanded.  But he did have 39 doubles last year, which oftentimes can be a portent of power.  Yes, portent.  Hey, I went to college and junk.  The other thing he could do to improve his chances of being a regular in the big leagues would be to start using steroids.
Hak-Ju Lee is a shortstop who is alleged to be a whiz defensively.  He played in the Midwest League last year at 19 and held his own.  He hit .282 with a .354 on base average (his slugging was lower than his on base at .351).  He's from the good Korea and your guess is as good as anybody's as to whether or not he'll be a big league shortstop.  The Cubs have a 20 year old at the spot right now, some hack named Starlin something, and felt like shortstop's not a big need for them for the next decade and a half or so.  Time will tell, on both counts.
Robinson Chirinos is 26 and he's been in the Cubs system for ten years.  No, I'm not making that up.  He spent the first seven years playing third, second and short and not hitting.  In 2008 they converted him to catcher and he's hit fairly well since.  Though, to be fair, until the very end of last year his post-conversion seasons were all spent with him being too old for his level.  But that's what happens when you learn a new position, you have to go down to get back up.  Even last year when he finished the season at Iowa (where he hit .364 in 15 games) he spent most of the season in Tennessee and if you can't hit in the Southern League at 26, you need to go home.
The Cubs had him ranked behind Welington Castillo in their system at catcher.  Castillo has not hit really well in the minors, but he's a much better defensive catcher and he's three years younger.  Hell, Geovany Soto is only a year older than Chirinos is.
So what did the Cubs give up?  In a nutshell, they gave up a young pitching prospect with a chance to be really good.  They gave up an outfielder who has a better chance of being a fourth outfielder than a starter (though if his power develops he could be a nice piece to a team), they gave up a talented shortstop prospect with a long way to go, and they gave up a novice catching prospect who is already 26.
What are they getting?
They are getting a 27 year old righthanded starter in Garza who has a plaque in his house that's just a little more impressive than the ones Guyer and Archer are hauling to Tampa.  He was the 2008 American League Championship Series MVP, and he won games three and seven of that series for the Rays.  He also pitched well in game three of the ALDS this past offseason against the Rangers, holding Texas to one run in six innings before the Rays rallied to win the game and pull within 2-1 in the series.  Rays manager Joe Maddon took crap for passing over Garza in game two to pitch James Shields, but Maddon said he wanted Garza to take the first road start of the series for Tampa because he had the balls to win a must game on the road.
Garza's posted three straight sub 4.00 ERAs pitching in the AL East which is pretty impressive, especially since if you pitch for Tampa or Baltimore you have to face three of the best offenses in the AL over and over in New York, Boston and Toronto.  In his three seasons in Tampa he never threw less than 184 innings (he threw over 200 each of the last two seasons) he hasn't allowed more hits than innings pitched and he's averaged 156 K's to only 67 walks per season.
He's going to benefit mightily from trading the rough and tumble AL East for the mediocrity of the NL Central.  He'll slot in right behind the erstwhile ace of the Cubs, Ryan Dempster and in front of the reborn, rejuvenated, newly matured (cough, cough, bullshit, cough, cough) Carlos Zambrano in the rotation.  It makes the Cubs formidable, especially if Andrew Cashner is as good at starting as the Cubs think he will be.  It'd be great if Garza could also learn to bat lefty and play second base, but they'll take what they can get.
It's not to say life is all sunshine and double rainbows all the way across the sky with Garza.  He can be an asshole, and he's been known to get into it with teammates in the dugout and on the mound and at times his temper will get the best of him on the mound.
Remind you of anybody?
How does the package the Cubs gave up to get Garza compare with the one the Brewers gave up to get Zack Greinke?
They're similar.  But there are two big differences.  The Royals wanted big league ready players at short and center, so the Brewers gave them shortstop Alcides Escobar and outfielder Lorenzo Cain.  Cain has lots of tools and no toolbox, Escobar is a legit big league shortstop (with the glove, not with the bat, yet).  And Greinke is owed $27 million the next two years, then he's a free agent.
Garza made $3.35 million in his first year of arbitration eligibility last season.  He'll get a nice raise to $6 million or so this year, and the Cubs will control him for two more seasons.
Oh, and Garza's not as good as Grienke, obviously.
But he's pretty good, and if somebody bitches that the Cubs should have traded for Greinke instead of Garza a) they'd be right, but b) they'd have had to have given up Castro and Brett Jackson and a couple of other prospects and paid Greinke the $27 million, and hoped that his "social anxiety disorder" didn't come back in the ivy covered fishbowl.
Contrary to some takes on this, this wasn't a reckless move by a "holy crap I have to win now or they'll can me" motivated GM.  This is what proven top of the rotation (Garza should be a legit #2 starter) pitchers in their 20′s cost.  And it's part of why you have a farm system.  You 'grow' cheap young players to either plug them into your team (like Cashner, Colvin and Castro) or you trade them for pieces you need.
Hendry's trade track record is pretty good.  The Juan Pierre move is the one really awful one.  But we saw that coming.  In that one he traded three pitching prospects for a one trick pony who needed his legs to have any value, who was in the last year of his contract, and who was heading to the wrong side of 30.  In this move, he gets a proven big league starter on the right side of 30.
UPDATE: Two of the other players in the deal are now known.  Bleed Cubbie Blue mascot Sam Fuld, he of the enormous forehead and hatred of wearing his hat in the dugout, is going to Tampa in exchange for outfielder Fernando Perez.  Perez is an interesting player.  He looked like a legit prospect as recently as two years ago when he had a .361 on base average and 43 stolen bases in AAA, just a year after posting a .423 on base average and stealing 32 bases at AA.  He was on the 2008 postseason roster for the Rays.  But he dislocated his wrist in the spring of 2009 and that season was a washout and he was bad last year in AAA.  He had a .280 on base average and awful .579 OPS at AAA.  He's also 27.  And he strikes out a lot.  I mean, A LOT.  Well, so much for that.
There's still a chance for the Cubs to receive a third player from Tampa.  Gee, I hope he's as good as Fernando Perez!  Do they still have Joey Gathright?  That went so well the first time for the Cubs.
The key to this deal for the Cubs is just how deep their farm system is.  Supposedly they have real talent there now.  If that's true, then trading even good prospects like Archer and Lee won't hurt too bad.  If not?  Ehh, let's worry about that later.
Either way, I endorse Jim Hendry's attempt to restock his team with Tampa Bay Rays castoffs.  At the very least it seems like a better idea than Andy MacPhail's attempt to horde every ex-Cub he can find.
UPDATE AGAIN: Thanks to Intrepid Reader Eli Gieryna, we have another awesome reason to like Fernando Perez more than Sam Fuld.
[youtube:http://www.youtube.com/watch?v=xQjt0Xzb5F8&feature=youtu.be]