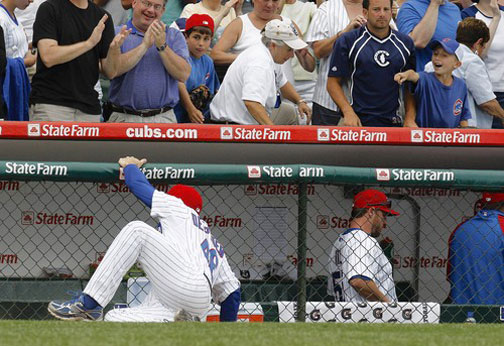 On Friday, I previewed the Cubs position player spots and ranked each of the projected starters in the NL Central at those positions.  I know that it was riveting entertainment.
Today, let's take a look at who is left.  That's basically the starting rotations, closers and catchers.
See, this is the part where I pretend I didn't just forget to list the catchers.  I ranked them just like I did the other spots and then forgot to include them.
So fine, let's start with the catchers.
Catcher
Geovany Soto made headlines last year by wearing a smaller pair of pants than he did in 2007, 2008 or 2009.  The newer, svelter, Soto was very productive at the plate, but he suffered a variety of injuries and played in only 105 games.
When Soto sits, that means more playing time for Koyie Dolan Hill, and as much as I like the guy for his awesome middle name and the fact that he has a Frankenhand, Koyie can't hit for shit.
So the Cubs need Soto to hit like he did last season (.280/.393/.497/.890, 17 HR, 53 RBI, 62 BB in 322 at bats) but do it more often.  About 135 starts out of him would be nice.
It'll be interesting to see where Mike Quade bats Soto.  Lou Piniella hit him eighth a lot (39 games), and seventh even more (42 games).  Quade hit him sixth most of the time after he replaced Lou.  Soto posted an .840 OPS hitting eighth, he excelled hitting seventh (1.015), and struggled hitting sixth (.653–but in only 30 at bats).
Given the juggernaut Cubs offense set to open the 2011 season (no leadoff man, no true number three hitter, etc.) who the hell knows what Quade will resort to.  Even Quade isn't sure yet.
Position rankings
1. Geovany Soto, Cubs
2. Yadier Molina, St. Louis
3. Ramon Hernandez, Cincinnati
4. Chris Snyder and/or Ryan Doumit, Pissburgh
5. Humberto Quintero, Houston
6. Somebody Lucroy, Milwaukee
Did anybody notice how god-awful Yadier Molina was in St. Louis last year?  I don't just mean awful looking, I mean awful.
He hit a mediocre .262 but with a .329 on base average, and he has no power.  He had 25 extra base hits in more than 520 plate appearances.  He doesn't strike out much (his 51 K's last year were a career high) and he compensates by grounding into double plays–19 last year, an average of 22 the last three years.  Sure he's an excellent defender, (he caught 49 percent of attempted basestealers last year which is two better  than his career percentage of 47), but every year he gets a little bit fatter.  He'll be 28 this season and he's already caught 800 career games.  His OPS plus of 84 was his lowest since 2006, but Cardinals fans are going to have to get used to it…kind of like how they had to get used to their cold sores.
Ramon Hernandez will split catching duties with Ryan Hanigan again this year.  Hanigan started 58 games (Hernandez started 91 behind the plate) and on a team with a normal manager you'd see him get phased into the lineup more and more each year.  But Dusty Baker is in the "earn it business…Hank Aaron…dude…blah, blah, blah."  Regardless of which one gets more starts, they're not better than Soto or Yadier.
Pissburgh is also going to go with a time share behind the plate with former Diamondbacks catcher Chris Snyder (you remember him, he was the guy who Mark Grace was referring to when he said, "this fucking guy swings like he's under-fucking-water" into an open mic when he thought he wasn't on the air) and Ryan Doumit.  Doumit has decent power, but rarely gets on base and can't catch.  So they make quite a pair.
Houston gave Humberto Quintero 87 games behind the plate last year and he's terrible.  They might go with Jason Castro this year.  Wait, who?  Jason Castro?  This guy?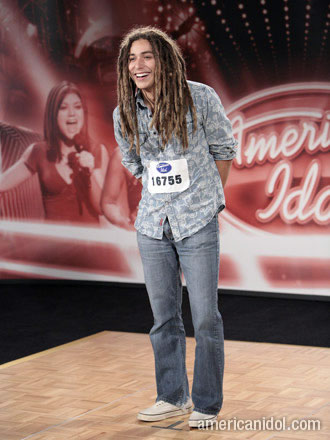 Oh, wait.  It's a different Jason Castro.  This one was a first round pick of the Astros in 2008, he went to Castro Valley High School in Castro Valley, California.  How adorable.
He's hit pretty well in the minors, but last year AA exposed his power–or lack thereof–he only hit 11 extra base hits (seven doubles, four homers) in 211 at bats.  Who does he think he is, Pat Cline?
In 195 at bats with Houston he also had 11 extra base hits (eight doubles, a triple and two homers).  Jesus, this guy got 195 at bats last year?  Did any of us pay any attention to Houston last year?
And…the Brewers are expected to go with Jonathan Lucroy this year.  He played in 75 games for them last year and he was pretty bad.  His OPS plus was 71 and he flashed Jason Castro-esque power (13 extra base hits in 277 at bats.)
Starting pitching
I was going to go from number one pitchers through number fives, but then I realized that that would be a lot of typing, so screw that.  We'll look at the starting pitchers as staffs.
The Cubs have an interesting group.  It could be really good, or it could be awful.  And a lot of that depends on just how crazy Carlos Zambrano is.  So let's just say we're leaning towards awful.
Ryan Dempster is now the de facto ace of the team.  He's averaged 14 wins a season since moving from the bullpen to the rotation in 2008.  He has thrown at least 200 innings each season and his strikeout to walk ratio is pretty good for a guy who was wild in his first go around as a starter.  (He led the league in walks in 2001 and in earned runs in 2002!  Yay?)  As consistent as he's been, he's going to be 34 this season, he's a Tommy John Disease survivor and you would think that there's extra wear and tear on his arm from always walking around with a 40 foot wad of multi-colored handkerchiefs stuffed up his sleeve.
We all know the deal with Carlos.  He's his own worst enemy.  He's out of control.  He hates Gatorade machines.  But I have my own theory about why he was so good in the second half last year (8-0, 1.58 ERA in 11 starts).  I think the anger management worked.  To a degree.
If it taught him only one thing it wasn't that he shouldn't yell at teammates, pull his hat down over his ears on the mound or punch a catcher.  It taught him to stop trying to throw harder every time he was in a jam.  (The other stuff should be knocked off, too.)  Carlos has always had a problem overthrowing.  The harder he throws the straighter his fastball is.  Without fail, every time he got mad in the past, he got lit up.  He's at his best when his fastball is 90-91.  It moves.  When he tries to throw 94 or 95 it's straight.
When he came back last year he stopped trying to throw harder.  A problem with this is that the more his ball moves the harder it is to throw strikes consistently.  In the second half he allowed only 50 hits in 74 innings and struck out 64, but he walked 44 guys.  Carlos is a sinkerballer, a guy who is supposed to prevent you from getting the ball in the air.  In the second half last year he allowed one home run.  That's more like it.
So it's pretty easy.  Throw as hard as you should, not as hard as you want to, keep the ball on the ground and work around the walks.  Equals profit!  Can he do it?
Shit.  Nobody knows that.
The Cubs rotation looks a lot better now than it did a few weeks ago, and all it took was sending four prospects and a Fuld to the Rays for Matt Garza.  Garza won 15 games last year for the Rays, threw a no-hitter and is signed at the low, low price of $5.95 million this year and has two more years of team control after that.  He might be the Cubs third starter or their number one.  Regardless, it's good to have him around.
Back in December when the Cubs brought Kerry Wood back the idea was that they could return Andrew Cashner to the rotation.  Cashner pitched in 53 games for the Cubs last year and after a promising start he struggled in July and August (especially July), but he was impressive in September posting a 1.80 ERA with 18 K's in 15 innings.  He was a closer in college, but he made 39 starts (and only 4 relief appearances) in his three minor league seasons.  The Cubs clearly see him as a starter long-term.  Whether he's ready at age 24 to be the fourth starter is what Spring Training is for.  That and stealing tax money from people in Mesa.
The fifth spot is probably Carlos Silva's by virtue of the $11.5 million he's owed by the Cubs to not be Milton Bradley for one more year.  The good news is that Silva will probably get hurt in April and open the spot for somebody else.  Randy Wells might fall victim to having options left and end up having to start the year in Iowa.  Jeff Samardzija is out of options, but new pitching coach Mark Riggins seems to think he'd rather hide Jeff in the bullpen.
For now, let's assume the rotation is Dempster, Zambrano, Garza and two of Cashner, Silva and Wells.
Position rankings
1. Chris Carpenter, Adam Wainright, Jaime Garcia, Jake Westbrook, Kyle Lohse, St. Louis
2. Zack Greinke, Yovani Gallardo, Shaun Marcum, Randy Wolf, Chris Narveson, Milwaukee
3. Johnny Cueto, Edison Volquez, Bronson Arroyo, Homer Bailey, Travis Wood or Mike Leake, Cincinnati
4. Ryan Dempster, Carlos Zambrano, Matt Garza, Andrew Cashner, Carlos Silva or Randy Wells, Cubs
5. Wandy Rodriguez, Brett Myers, JA Happ, Bud Norris, Nelson Figueroa, Houston
6. James McDonald, Paul Maholm, Kevin Correia, Ross Ohlendorf, Charlie Morton or Scott Olsen, Pissburgh
As long as Karen Carpenter's arm is still attached, her and Wainright are the best 1-2 in the division.  Lohse blows, but Westbrook and Garcia are pretty good in the 3-4 spots.  The good news is that Carpenter's next injury is likely to be his last, so there's that to root for.
The Brewers did the most to fix their pitching and they had to, because it was awful.  Greinke is awesome and pitching in front of less than intimidating fatties in Wisconsin shouldn't trigger his anxiety disorder.  Gallardo is as talented as any other pitcher in the division and slotting him at the two is pretty luxurious for the Brewers.  Marcum, like Garza, will benefit from a move to the NL Central from the AL East.  Randy Wolf is an inning eating mediocrity and Narveson is Shawn Boskie 2.0.
The Reds certainly have talent, especially Volquez, who missed more than half of the last season with Dusty Baker…I mean Tommy John Disease and he had some fun with some female fertility drugs that caused him to sit out 50 of those games without pay.  Cueto's next on Dusty's hit list and his TJ surgery is already scheduled for May.  Homer will be 25 in May and he's shown flashes of being good, and flashes of just allowing a lot of his first names.  He's likely to get passed by both Leake and Wood, at least until Leake's arm falls off (it started to late in the season).  Why anyone would give Dusty a young rotation like this is beyond me.  Two years from now they'll all be toast.
The Cubs have to slot in at four.  Other than Garza, their only dependable pitcher is Dempster.  There's talent in that rotation, but it's going to have to be handled with care.
Houston would be smart to trade Brett Myers as soon as possible, while he still seems to be a competent starter and before he punches his wife again.
Pissburgh's rotation is just all kinds of awful.
Closer
I'm not going to do the bullpens, just the closers, because in February, these teams have no real idea what their 'pens are going to look like.
The Cubs, for their lack of success, are pretty used to having a good closer.  This year should be no different.  Carlos Marmol really blossomed into that role last year.  He led the league in games finished with 70 and he struck out a ridiculous 138 guys in 77 innings.  He cut his walks by 13 and his hit batsmen by four, which is progress.  He will still have games where you have no idea where the ball is going, but more and more he has the ones where he comes in and just blows people away.  Those are freakin' awesome to watch.
Position rankings
1. Carlos Marmol, Cubs
2. Ryan Franklin, St. Louis
3. John Axford, Milwaukee
4. Francisco Cordero, Cincinnati
5. Brandon Lyon, Houston
6. Joel Hanrahan, Pissburgh
Marmol is clearly the class of this group.  Give the Cubs credit, they're not at the top of many of these rankings, but when they are (shortstop, catcher, closer, third base) they are by a lot in three of the four.
Franklin was an All-Star in 2009, but he was actually better last year.  His strikeout to walk ratio went from a not so great 1.8:1 to an outstanding 4.2:1 and his hits went up by only eight in four more innings pitched.  His ERA went up, which is not a really great way to measure closers anyway (I prefer to do it by height.)  Franklin, is of course, another in a long line of proven Cardinals drug cheats, and he's just about the biggest redneck in baseball.  So he's got that going for him.
Axford came out of nowhere to replace Trevor Hoffman.  He boasts a silly mustache and gave up only one homer in 58 innings pitched while striking out 78.  He always posted high strikeout numbers in the minors.  And he's from Canada.  Take from that what you will.
Coco is what he is.  He's a better than league average closer paid like a Hall of Famer.  Dusty will get pressure to give his job to Aroldis Chapman, and he might do it, because Dusty's too dumb to see what a matchup nightmare he could have if he left Chapman in a role where he could use him anytime from the sixth to the ninth when the matchup best fit.
Houston and Pissburgh don't have closers.  They list Brandon Lyon and that pederast Hanrahan.  Not like they'll ever have leads anyway.
So what does all of this prove?  Nothing.  But it's February and it's time to start obsessing over baseball.  Just feels right.