There really is no more hit or miss assignment in TV or radio than the man on the street, and we have this new classic from WBEZ where a bald guy with a beard (always looks like their head was installed upside down) interviews a drunk Cubs fan.
She's the perfect fan to interview.  She probably used to be cute.  She's drunk.  She doesn't know who's playing for the team.  She doesn't have tickets for the game.  And she's constantly sniffing during the interview.
Oh, and the whole thing is fake.
Because what drunk bitch would still be lugging around her "It's Gonna Happen" sign?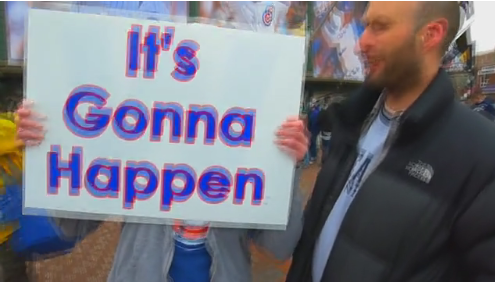 OK, I don't know it to be fake.  But it just reeks of bullshit, doesn't it?
I report.  You decide.  Or whatever.
Opening Day: The Cubs biggest fan from WBEZ on Vimeo.