Cubs functionally illiterate manager Dale Sveum has narrowed his 25 man roster down to 28 or so (nobody's sure how high Dale can count), and it's a sight to behold.  An outfield of four washed up guys and the plodding Joe Mather, an infield that's only three-fourths short on Major League quality talent, a catching corps that has the best one on a bus to Iowa, and a pitching staff so thin, that not only did Jeff Samardzjia make the rotation, but they're actually going to miss him in the bullpen.
Sports Illustrated doesn't think the Cubs can win 70 games this year.  I'm not sure they can win twelve.
But this is the only Cubs team we have this year.  We might as well figure out the most efficient way to mock each of them.
Today, let's look at the position players:
CATCHERS (2)
Geovany Soto
Cubs fans are clamoring for the team to trade Alfonso Soriano, and that will be no easy feat given his huge salary and his allergies to fly balls and sliders.  But shouldn't the Cubs be trying to trade Soto?
Soto's performance and weight both fluctuate, and he's injury prone, too.  He's 29, and the Cubs have to figure out if he's the even number year Soto (he hit .285 with an .868 OPS in 2008 with 23 homers and 85 RBI and .280 with an .890 OPS with 17 homers and 53 RBI in 2010) or the odd year Soto (.218, .702, 11, 47 in 2009 and .228, .721, 17, 54 last year).  Maybe the Cubs are hoping he'll get off to a good start and drive his value back up.  In a lineup devoid of…much of anything…the Cubs would like for Soto to hit fifth.  Good luck with that.
Steve Clevenger
Clevenger beat out Welington Castillo for the backup job because a) he's a lefthanded batter and b) because Sveum says Castillo is a "future All-Star" and "needs to play every day."  If he's a future All-Star he ought to be playing in Chicago.  Keep in mind that Sveum also said that Brett Jackson is the best player he's ever seen "at this stage in his development."  Clearly, Dale is insane.  Based on previous years, both Clevenger and Castillo will get time, as Soto has only stayed healthy in one season (his rookie year.)  The first time you see a Cubs broadcast closeup of Clevenger when he's batting check out the thing that he has sticking out of his neck on the left side.  Might be a goiter.  Could be a new kind of time release steroid that Dave McKay brought with him from St. Louis.  Let's hope for the latter.
INFIELDERS (6)
Bryan LaHair
I'm all for Theo giving LaHair a shot to keep the first base job while the Cubs best prospect, Anthony Rizzo, torments the Pacific Coast League in Des Moines this summer.  LaHair has always hit in the minors and it's a mystery why the chronically offensively challenged Mariners didn't give him a chance in either 2008 or 2009.  Especially since he can play first base or the outfield.  We'll see how it shakes out for LaHair, but he isn't doing himself any favors by wearing Micah Hoffpauir's old number six.  That thing practically comes with a bus ticket safety pinned to it.
Darwin Barney
The worst Cubs beat writer ever… twitter.com/cst_cubs wrote a long piece today on how Barney has bulked up (always a good idea for a 5'4 second baseman.)  Gordo blamed Barney's weight loss for his awful second half and I'm sure he got tired and that didn't help, but his first half wasn't so great anyway.  Sure, he hit .304, but his on base average was only .334 and he only managed 32 extra base hits all season.  So when he dropped to .238 and .286 in the second half it wasn't a case of going from good to bad.  It was bad to worse.  Given his offensive shortcomings (he walked only 22 times last year, and has no power), Barney would need to play Ryne Sandberg like defense to compensate.  He doesn't.  A bad bat and a slightly above average defense is a utility player, not a starting second baseman.  Barney says he hopes he can be on the roster all year, and for years to come.  Why does he hate us?
Starlin Castro
I'm going to be very analytic in my summary statement about the Cubs 21 year old shortstop.
He's pretty fucking good.
Offensively, not only is Castro one of the best shortstops in baseball, but he's showing noticeable improvement.  He led the National League in hits and has hit more than .300 in each of his two seasons.  Granted, there's room for improvement.  He's nearly as impatient as Barney.  Starlin walked only 35 times last year, which needs to double at some point.  Because of his lack of plate discipline, despite a high batting average and solid power (10 homers in his age 21 season with 35 doubles and nine triples is pretty good) his OPS was only .773.  That's not an elite level, even for a shortstop.  Defensively, he's a mess.  He actually improved some over his rookie season (he made two more errors in 33 more games played) but all that meant was his error total went from horrific to shitty.  He has the physical tools to be a solid defensive player, but it actually needs to happen at some point.
If he learns to draw more walks and cuts down on his errors, he really will become an elite player.  Until then, even at his current level he's easily the best player on the team.  Maybe that's not so good for him.
Ian Stewart
The Cubs decided to take a chance on Stewart who was a hot shot Rockies prospect not long ago, and they were able to dump the overrated (by Cubs fans only) Tyler Colvin in the process.  Stewart showed no power with the Rockies last year, but hit 14 homers in 45 games on the moon…I mean Colorado Springs after his demotion to AAA.  Like most of the Cubs, he strikes out too much.  Unlike most Cubs he does draw some walks.  Defensively, he's excellent.  He'll be the most adroit Cubs third baseman since Steve Buchele (what?)  The Cubs can afford to be patient with him because they're going to suck.  But this is probably his last real chance.  He'll be 27 on April 5, so he should be starting his prime.  Such that it might be.
Blake DeWitt
I find it hard to believe that DeWitt isn't a better player than Barney.  While Darwin was sucking wind in the second half, DeWitt was hitting .270/.357/.486/.844, albeit in only 74 at bats.  Really, why WOULD Mike Quade have given DeWitt a chance.  He was pushing for 75 wins!  Fact is, even if DeWitt is better than Barney, neither of them is all that great.  DeWitt's advantage is that he's an extra lefthanded bat.  Barney's is that he's younger.  You know, if three months younger means anything to you.  It shouldn't.  Blake can play second, third and left, and is actually a pretty solid third baseman.
Jeff Baker
Baker crushes lefties to the tune of .309/.360/.526/.886 for his career.  Given Stewart's struggles with them (.223/.320/.406/.726) you would think the Cubs should platoon the two of them.  In fact, the Cubs should probably platoon DeWitt with Barney.  But should a team in "development" be platooning half their infield?  You could argue they should be looking for Stewart and Barney to improve against opposite handed pitching to truly evaluate them.  Me?  I'd platoon them, hope all four put up solid stats and see if you can move them.  Unless Stewart somehow harnesses his talent, none of the four are projectable as everyday players, anyway.
OUTFIELDERS (5)
Alfonso Soriano
Soriano's 2011 numbers were abysmal and it's hard to believe they can be blamed on having to bat seventh.  When you hit .244/.289/.469/.759 you should be batting tenth.  I've never shared the hatred for Alfonso that other Cubs fans do.  I can't blame a guy for signing a ludicrous contract if  it's offered to him.  The years (eight) and the no trade clause were the killers in the deal, and there are three seasons left on it.  Given his age, his recent history of leg injuries and his total lack of ability to play any position on the field, the final two-plus years of the deal are going to be as somebody's DH (with the Cubs paying almost all of of his salary.)  Soriano has torn up the Cactus League, as the purportedly great Rudy Jaramillo has finally convinced Soriano to cut down on his leg kick.  Soriano still generates impressive bat speed, but swinging hard only accomplishes something if you actually hit the ball.  The Cubs hope is that he enjoys a modest rebound (even to the .258/.322/.496/.818 level of 2010) and they can find him a home in July.
Soriano's teammates like him, so attitude and money won't be a hurdle in trading him.  Just performance. You know, just that little thing.
Marlon Byrd
Byrd is another guy liked by his teammates, and another guy who will be gone by July.  Marlon's a nice player.  He plays hard, he plays good defense (at least on the balls he can get to) has occasional pop and is a very smart player.  He's going to be a great addition to somebody's roster as a left fielder or extra outfielder.  But he'll be 34 in August, and there's no place for a 34 year old, non-superstar centerfielder on a team building for the future.  No matter how cool of a guy he is.
David DeJesus
DeJesus played almost all of 2011 injured, and the Cubs expect him to put up a line similar to what he did in 2010 when he hit .318/.384/.443/.827 for the Royals (good luck with that).  He's going to lead off and play right, and if the Cubs plan works out he'll complete the triumvirate of opening day outfielders who end up traded.  For DeJesus it might be in the offseason or early next year, but if he performs, it's coming.  Much to the chagrin of his Wheaton-born, buxom bride: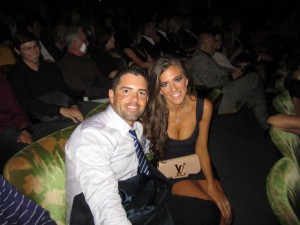 Reed Johnson
Reed's even older than Byrd, so why is he on the roster?  Because it's either him or Tony Campana for the fourth outfielder spot, and other than running fast straight ahead, Campana doesn't do anything well.  Reed hit .309 last year and had the highest OPS+ of any Cubs outfielder (122) last year.  Wow.  What a shitstorm that team was.  This team is probably even worse than that.  Reed's another solid bet to get traded.  You know, unless…I mean, until…he throws out his back again.
Joe Mather
Mather played 11 years in the minors for the Cardinals.  Eleven.  He easily made the Cubs this year.  Sweet Lord, how did it come to this?
Joe can play first, second, third and all three outfield spots, so he's useful.  At least if you don't have anybody else to put on the roster.  He's the one who actually took Campana's roster spot (so we can love him for that.)  Mather was released by the Cardinals in June last year and signed with the Rockies, where he hung out with Ian Stewart in Colorado Springs.  So he's got that going for him…which is largely irrelevant.
The Cubs hope has to be that by the end of the season Brett Jackson is in center, LaHair has hit well enough to warrant a move to left and Anthony Rizzo has played well enough to have taken over at first.  And if you want to hear God laugh, tell Him your plans.
This is a lineup that could be truly awful.  DeJesus could be solid leading off, and Castro will hit whether you bat him second or third, but the rest of the lineup is up for grabs in a bad way.  There is no true fourth or fifth hitter, and probably not a sixth.  Just an assortment of guys who should be hitting seventh or eighth on a team with any modicum of competence.
Defensively it's a little better.  All of the catchers and Barney are solid.  Stewart's an asset at third.  Byrd catches anything he gets to and DeJesus is good in right.  The problems are obviously short and left, and going from years of Derrek Lee and a year of Carlos Pena to LaHair.  He's not exactly a mop handle with a glove on it, but he isn't going to remind anybody of Mark Grace over there, either.  (Think taller Matt Stairs.)
If you thought his was depressing, wait until we do the pitching staff next.  Hide the sharp objects.