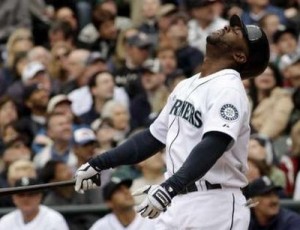 The Cubs have played 20 games so far this season, and won 10 and lost 10.  That's what mediocre teams do.  So take that however you want.  You have to give them credit, though.  They certainly make middling baseball interesting.  If they're not sending the franchises' all-time winning percentage leader to the bullpen, they've got fans writing in to the local rag to demand the benching of one of the best hitters they've ever had.
And speaking of best hitters they've ever had, how are things going for our old pal Milton Bradley in Seattke?
Because I can tell you how things are going for his replacement.  His former Rangers teammate Marlon Byrd has already duplicated Milton's first half from last season.
And you think I'm exaggerating?
Read More